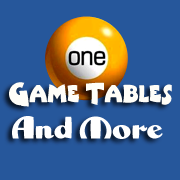 Palm Desert, CA (PRWEB) August 06, 2013
Sharon Stratton is excited to announce the creation and launch of her new website venture, http://www.GameTablesAndMore.com. The website offers game tables and games that can be enjoyed by a wide age range, from children to grandparents, with friends and family; the site offers billiards tables, foosball tables, air-hockey tables, multi-game tables, classic games like chess, checkers, and backgammon, poker chip sets, table tennis and air hockey tables, and many more excellent items that encourage social interaction.
Stratton is someone who enjoys playing games and has decided to bring her interests and expertise to GameTablesAndMore.com, so that she can help her potential customers find the games that they too will love playing with their family and friends. There is a unique blend of goods offered on the site from quality inexpensive board games to an excellent selection of quality game tables, as well as smaller versions of games like shuffleboard, billiards, and air hockey that will fit on a coffee table, which is perfect for a small home or apartment.
In the future, Stratton intends to continue adding new and interesting products to the merchandise available at GameTablesAndMore.com. She plans to offer new games and products such as dart boards, Mahjong, and more supplies for poker and the other games offered on the website. By periodically updating the site's merchandise, she wants to encourage customers to keep coming back to the website to see what's new.
To complement the main website, Stratton is also launching a blog located at http://www.GameTablesBlog.com. The blog will feature topics related to the different games that are offered in the online store. Stratton intends to offer information related to these games, such as delving into the history of billiards and other games; she will also be discussing the value of family and friends playing together, the value of communications in an electronics age instead of the isolation of electronics games, good sportsmanship, strategies for many of these games, and even comparisons of different products to help customers make more informed decisions when purchasing items on the site.
About the Company:
GameTablesAndMore.com – a division of Dr. Mom's Enterprises, LLC – is owned and operated by Web entrepreneur Sharon Stratton.