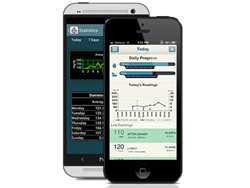 Withings and BodyMedia lead the wireless market in health and wellness tools for exercise and nutrition management; for people with Diabetes, Telcare adds the critical third leg in the stool, that of blood glucose measurement.
Bethesda, MD (PRWEB) August 05, 2013
At this year's American Association of Diabetes Educators (AADE) Exhibition, Telcare®, the leader in mobile diabetes management solutions, unveils its new Diabetes Health and Fitness application, Diabetes Pal 2.0, available now on the Apple App Store for Free. The Diabetes Pal App combines data from Telcare's FDA-cleared wireless glucose meter, Telcare BGM®, with physical activity, calories burned and sleep duration data from BodyMedia's armband-based body monitors, and bodyweight and blood pressure data from Withings. Telcare's app differs from all prior entrants into the wireless health space in that blood glucose and other physiologic data are received directly from wireless mHealth devices, rather than relying on tedious user input.
At the AADE, Telcare (Booth 141) will be enrolling healthcare professionals in a three-month Beta Program which will provide "world first" management features to enrollees. The Beta Program affirms Telcare's commitment to support patients with diabetes in improving their glucose control through diet, exercise, and lifestyle modification. Additionally, the Beta Program will empower caregivers with a very easy way to track the progress of patients.
Telcare's two initial collaborators in this project are recognized for their work in marketing wireless devices that delight consumers and empower them in their daily lives.
"Withings and BodyMedia lead the wireless market in health and wellness tools for exercise and nutrition management; for people with Diabetes, Telcare adds the critical third leg in the stool, that of blood glucose measurement," said Dr. Jonathan Javitt, Telcare's CEO.
Matthew Tendler, Telcare's VP of Product adds, "This is the first collaboration of its kind; allowing people with diabetes and their caregivers to clearly analyze the effect that physical activity, nutrition, sleep duration, and weight has on their blood glucose numbers. It's all done automatically."
"We have long known that management of various aspects of lifestyle in conjunction with other information managed by a person with diabetes is a gap in the market today. The partnership with Telcare will take a first step down a road to provide integrated and simple solutions for this market," commented Christine Robins, CEO of BodyMedia.
"Bringing awareness to the importance of physical activity in the treatment of diabetes is something we're extremely excited about," said Cédric Hutchings, Withings CEO. "By partnering with Telcare, we hope to help a countless amount of patients step on the scale and instantly see the correlation between their weight loss efforts and the positive health benefits."
Diabetes Pal 2.0 is currently available for free on the Apple App Store.
About BodyMedia
BodyMedia® pioneered the development of wearable body monitors that collect physiological data for use in improving health, wellness and fitness. Founded in 1999 and now a wholly owned subsidiary of AliphCom dba Jawbone® (creators of human-centered wearable technology like the UP® band), BodyMedia today provides a variety of around-the-clock on-body monitors utilizing proprietary technology. Data captured by BodyMedia devices is used by consumers as well as health and wellness professionals to guide behavioral changes to help control weight and promote an active lifestyle – two factors that are routinely cited as keys to combat and manage serious medical conditions. BodyMedia technology has been used in over a hundred clinical research studies covering health issues such as obesity, COPD, diabetes, cystic fibrosis, cancer, bariatrics, sleep and intensive care. For more information, visit http://www.bodymedia.com
BodyMedia® is a registered trademark of BodyMedia, Inc. Jawbone® and UP®, are registered trademarks owned by AliphCom dba Jawbone. Other company and product names may be trademarks of their respective owners.
About Withings
Withings is an innovative company that creates smart products and apps to help people across the world easily take care of their health and well-being. Founded by French executives Cedric Hutchings and Eric Carreel, Withings has been pioneering Health 2.0 since the launch of their first Wi-Fi Body Scale in 2009 and is leading the way of the connected health movement. By extending the capabilities of an object through network resources, Withings provides access to infinite computing and storage facility at no extra cost, turning objects into smart connected devices. Since 2009, Withings has extended those benefits to a wide range of lifestyle-friendly devices including the Smart Body Analyzer, the Smart Blood Pressure Monitor, the Smart Baby Monitor and the Smart Kid Scale. By using mobile phones and computers as bridges and opening up its platform to the well-being ecosystem, Withings now works seamlessly with over 100 partner apps and devices, providing users with a whole new dimension to their day-today life. Read more about Withings on http://www.withings.com.
About Telcare
Telcare uses award-winning cellular machine-2-machine technology to bridge the last mile between patients and their caregivers in order to improve the care of chronic illness. Telcare's first product is the Telcare BGM, an FDA-cleared and CE Marked cellular-enabled blood glucose meter for the 28 million Americans and 100 million addressable patients worldwide who have diabetes that instantly transmits glucose values to a care-management server and provides instant feedback and coaching to patients with diabetes. In addition to directly reducing cost of care by improving outcomes and preventing complications, Telcare creates an ecosystem of care that provides caregivers and disease managers with previously-unavailable actionable clinical data. To pre-order the Telcare BGM or smartphone apps, visit http://www.telcare.com
Media contacts:
Jennifer Skitsko
Telcare, Inc.
301.979.7580
JSkitsko[at]telcare[dot]com