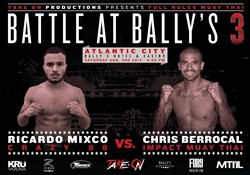 "They both have a lot of talent and we're eager to see what the future holds for them."

- Julius Park, Head Instructor
Baltimore, MD (PRWEB) August 04, 2013
Keeman Diop and Ricardo Mixco both won their amatuer Muay Thai fights at Battle At Bally's III in Atlantic City on Saturday, August 3. Both Diop and Mixco train Muay Thai kickboxing at Crazy 88 Brazilian Jiu-Jitsu located in Elkridge, MD.
Muay Thai is a stand-up combat sport that originates from Thailand. The sport is gaining popularity in Western Countries due to its influence in mainstream mixed martial arts such as the Ultimate Fighting Championship (UFC).
Events such as Battle At Bally's, hosted by Take-On Productions, allow rising talent to showcase their skills and put the sport in the spotlight.
The talent representing Crazy 88 at the event was Keeman Diop and Ricardo Mixco. Both Diop and Mixco are young men who have been committed to a rigorous training and conditioning schedule. Mixco had competed in Smokers (pre-amateur fights) prior to this event and Diop had not, making Battle At Bally's the amateur debut for both of them.
Mixco fought first for Crazy 88 that evening. He was up against Chris Berrocal of Impact Muay Thai. The fighters saw it through all three rounds and the decision was left for the judges. It was a unanimous decision for Mixco.
Diop faced Boya Gao of Cool Hearts Muay Thai. The fight was short lived as Keeman delivered a quick KO in the first round making Crazy 88 undefeated for the evening.
Head Instructor, Julius Park said of the fights, "We're incredibly proud of what these guys have done here tonight. They have worked hard for this and deserve this." He continued, "They both have a lot of talent and we're eager to see what the future holds for them."
To learn more about the fighters and upcoming events that Crazy 88 will be participating in, please visit http://www.Crazy88BJJ.com or call (443) 283-1450.