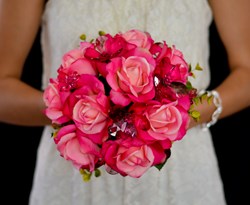 "Every bride wants to be a princess on her wedding day, ...These fantastic bouquets add to the beauty of the moment and enhance the photo memories for the couple." - Pam Rowland
Las Vegas, Nevada (PRWEB) August 23, 2013
Las Vegas Luv Bug Weddings, a premier provider of mobile wedding services in Las Vegas, Nevada, presents a limited-time offer of beautiful bridal bouquets for all couples marrying now through September 30, 2013.
"Every bride wants to be a princess on her wedding day," says Pam Rowland, co-owner of Luv Bug Weddings, "These fantastic bouquets add to the beauty of the moment and enhance the photos and memories for the couple."
Pam provides photography services for all of Luv Bug's wedding ceremonies, but she could tell through the lens that something was missing on their first ceremony: The bride was empty-handed. Between traveling daily from location to location for wedding ceremonies and being located in the Mohave Desert, live flowers weren't really an option. That's when Pam created their lineup of artificial bridal bouquets.
Artificial flowers don't look artificial anymore, with the new poly-silk blend of fibers providing a realistic look and feel to these floral bouquets. There are six bouquets for brides to choose from during the online booking process, from the Traditional or The Vintage, to Rockabilly Red or Luv Bug Pink.
All couples who book and are married between now and the end of September, 2013 will receive complimentary use of their choice of one of these six bouquets during the ceremony and photo session.