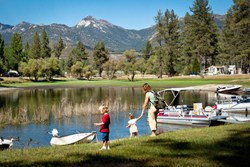 You can't even tell a wildfire was in the area...
Mountain Center, CA (PRWEB) August 06, 2013
During the recent Mountain Fire near Idyllwild, Calif., the Lake Hemet Campgrounds were emptied of campers, in order to base over 3,000 fire fighters there. Now that the wildfire is out, the firefighters have left and the San Jacinto Mountains have clear air once more, the campground is offering a special incentive to welcome campers back.
Lake Hemet Campgrounds is offering a third night free for every two nights reserved through August. The offer applies to tent sites ($25/night) and full hookup RV sites ($30/night), and includes one free boat launch with each two-night stay.
"You can't even tell a wildfire was in the area," said Lake Hemet Campground General Manager Tim Colvin, "It was miles away, but the effect on campground reservations is as if it happened close by. That's because we had to cancel reservations to keep roads clear of traffic and accommodate firefighters. The effect is that we have lots of empty campsites in August. Normally, they're full."
Colvin said this means campers who stay three nights in August will save a third of what it would otherwise cost. "A bonus is that they're able to more easily reserve a prime site near the lake in the most desired month of the year."
For reservations or more information, visit http://www.lakehemetrecreation.com.
Lake Hemet Recreation Company is an authorized concessionaire of the Lake Hemet Municipal Water District. Lake Hemet Recreation Company is a part of The California Parks Company, which provides visitor services at national, state, and regional parks, as well as water districts and other recreation providers.