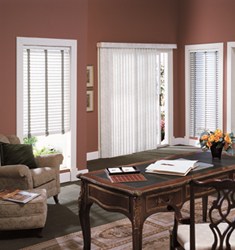 Currently they offer up to a 40% discounts on brand name Aluminum Blinds from Graber and Crown.
Stoney Creek, ON (PRWEB) August 05, 2013
Zebrablinds is the go to destination when considering how to treat one's windows. Zebrablinds is now offering deals and great discounts for the long weekend. Currently they offer up to a 40% discounts on brand name Aluminum Blinds from Graber and Crown. By blending style with utility, Zebranlinds offers a vast selection of goods, ranging from blinds and shades to shutters. One can choose from different brands, and can complete their orders online, after discovering a large selection of different window treatments.
In one of its lowest price brackets, Zebra Blinds offers stunning style at an affordable price- they have a large selection of aluminum blinds to meet your needs. Low prices become even lower with Zebrablinds sale prices. With the ability to vary between colours and brands, aluminum blinds fulfill one's needs, and there is hardly a reason to look further. With brands like Crown®, and Graber®, one can rest easy knowing their blinds are made with quality, by makers who have been in the business for years. Aluminum blinds do not face the same drawbacks as items like shutters, or other wood blinds and window treatments. Aluminum will not break, become brittle, or crack and fade. Due to the painting processes used on the blinds, they are resistant to scratching as well. As they do not face problems of humidity, they can be used in spaces with high moisture, like kitchens or bathrooms.One can also access more detailed information about the brands, and their blinds, with a simple click to that page on the Zebrablinds website further aiding customers in making choices right for them.
Aluminum blinds come with various options such as cordless and corded blinds. Corded options may not be safe for children whereas cordless options are a great alternative. Motorized movement will provide smooth and quiet operation of the blinds instead. These are a great option for rooms with high child or pet activity. Corded options now come with an innovative crash-proof cord lock, which prevent any clumsy blind movement while lowering or raising them. Bottoms bumpers further prevent any sill damage, thus demonstrating the care of brands used by Zebrablinds. Along with standard window shapes, Zebrablinds' brands also offer aluminum blinds in specialty shapes, such as octogons, and even circles. Furthermore, all styles by Crown®, and Graber® can be found in a variety of colours to fit in with any home décor. Not only does this allow one to have similar blind styles for all window treatments, but it also emphasizes the dedication Zebrablinds has in servicing their customers. Zebrablinds ensures that one's windows look their best, while highlighting the rest of their house.
Zebrablinds offers installation services if one is not up to the task of installing their treatments themselves. While all products come with an instruction guide, Zebrablinds refers its customers to various installations services, as decided by the state that they live in. This is a service widely available across all of the United States of America. With a penchant for foreshadowing their customer's needs, Zebrablinds.ca ensures that their customers are able to receive the shutters that they have wanted.
With a variety of styles and materials in all their treatments, customers will definitely find a product that they will love. Window treatments from Zebrablinds will compliment one's home, and keep their wallet happy as well. For more information on aluminum blinds, and many more window treatments such as shutters and shades, check out Zebrablinds.ca.