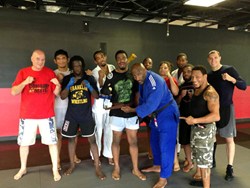 I was totally surprised.
Camp Springs, MD (PRWEB) August 06, 2013
Lloyd Irvin Martial Arts Academy welcomes its newest Brazilian Jiu Jitsu (BJJ) Brown belt Ron Stallings. Master Lloyd Irvin promoted Ron, 30, from purple to brown belt on Friday, August 2. Ron has been officially training under the Team Lloyd Irvin banner since 2006.
Ron Stallings, aka the Choir Boy, is a Strikeforce vet and Ring of Combat Middle weight champion. In Brazilian Jiu Jitsu, Ron has won multiple NAGA (North American Grappling Association), US Grapplings, and Grapplers Quest Championships. In MMA (mixed martial arts), he has fought all over the United States for multiple promotions, most recently winning the Ring of Combat Middle Weight strap by knocking out UFC vet Mike Massenzio.
Of the promotion, Ron says, "I was totally surprised. You aspire to move up the ranks but for me anyway, concentrating on improving my skill set especially for MMA, took my mind of progressing up the BJJ belt ranks. But its definitely something Ive dreamed about, becoming TLI brown belt and eventually black belt."
Master Lloyd Irvin was happy to promote Stallings to brown belt after the young fighter proved his skills in a tough, grueling training the weeks leading up to his promotion.
Ron Stallings, owner of Top Flight MMA in Belcamp, MD is a husband and father of a 2 year old daughter. He and his wife are expecting a son in the next few months.
Ron looks to continue to advance in both MMA and BJJ as his promising career flourishes. For more information on Top Flight MMA, please visit http://www.TFMMA.com and for more on Ron Stallings, please visit choirboymma.com/facebook.