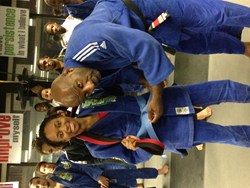 Camp Springs, MD (PRWEB) August 05, 2013
Thursday, August 1, marked was a great day at Lloyd Irvin's Martial Arts Academy as three new blue belts were awarded. The three youngsters were Jazmine Marable, Krystal Allen, and Ross Olexa.
Jazmine Marable, 20, has been training at Lloyd Irvin Martial Arts for over a decade. She began her training at 10 years old in the youth program, where she learned martial arts, self defense, focus, discipline, and structure.
Master Lloyd Irvin and youth instructor, Master Donald Achnick, were ready to promote Jazmine after years of hard work and diligence from the young lady. Jazmine says she felt "super excited and humbled" by the advancement to blue belt in brazilian jiu jitsu.
Outside of training martial arts at Lloyd Irvin Academy, Jazmine like to attend school, church, and enjoys art. She is currently attending Prince George's Community College where she is majoring is graphic design. She plans to transfer to Bowie State University or MICA in Baltimore, MD next year.
Jazmine, ever the Lloyd Irvin Martial Arts pupil, also works the front desk, greeting students and visitors at the Academy. She also teaches classes for the 3-4 year old students. She said, "It's a great program, the kids are awesome and I love leading their classes."
For more information on Lloyd Irvin Martial Arts Academy, please visit http://www.lloydirvinlive.com. Or, for more information on the youth program, please visit http://www.kidskarateclasses.com or call 301-449-KICK