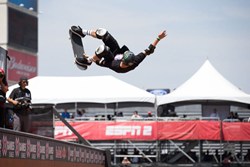 It's great to be performing at a high level after suffering from a knee injury earlier this year. I can't wait to be back at a 100% next year. - Pierre Luc Gagnon (PLG)
Los Angeles, CA. (PRWEB) August 05, 2013
Monster Energy congratulates its athletes on an amazing weekend at X Games Los Angeles 2013. The world-class team took a total of 16 medals across skateboarding, BMX, rally, and moto disciplines. Visit monsterenergy.com for exclusive content on all the team's successes.
For full recaps, check out the Monster Energy web site. Highlights include:
In Street League Skateboarding, Nyjah Huston reclaimed the throne by dominating the finals. From the start Huston was on a roll and easily took the win—it's his eighth X Games medal and fourth gold, and this marks his 4th SLS win of the year. Meanwhile, his teammate Chris Cole continued his very successful 2013. Sitting in 6th place coming into the last Impact Section of the finals, Cole pulled a bunch of clutch tricks—half Cab noseslide 270 out, a switch frontside flip, switch backside blunt slide—to take the silver. That's a one-two finish for the Monster Energy team.
In the Skateboarding Vert, Pierre Luc Gagnon (PLG) took silver, adding a 20th medal to his trophy case. "I'm really happy to be on the podium and earn my 20th medal for the last year of X Games LA," said PLG afterwards. "It's great to be performing at a high level after suffering from a knee injury earlier this year. I can't wait to be back at a 100% next year."
Over in BMX Big Air, Vince Byron landed a history-making trick and bagged a well-earned silver. On his third run he pulled a superman seatgrab 360 over the gap followed by a 540 double tailwhip on the quarterpipe. It's the first time the trick has been pulled at X.
Thanks to the insane and legendary videos from Ken Block, this year Gymkhana GRID made its X Games debut. Liam Doran battled to a bronze medal thanks to his precise, technical driving on the course that saw drivers drifting and sliding around cones, tires, barrels, shipping containers, and more.
Monster Energy riders took the top three spots in Moto X Freestyle, with Taka Higashino, Adam Jones, and Nate Adams going 1-2-3 respectively. This is the third straight win for Higashino, who took gold at X Games LA 2012 and X Games Foz do Iguacu 2013.
Another Monster Energy podium sweep came in Moto X Speed & Style. In an event that combines racing and FMX for a combined score, Nate Adams took gold, Blake Williams silver, and Andre Villa bronze.
In Moto X Best Whip, Josh Hansen took gold and Jeremy "Twitch" Stenberg took silver. Stenberg was throwing his signature batch of smooth, flowing whips, but Hansen lit the whole building up with a whip that was so big, and so upside-down, that many in the audience were surprised that he actually landed it. It's his first career Best Whip gold.
In Moto X Racing, Josh Hill returned to glory by taking silver after a gnarly leg injury three years ago. In a tough battle for the podium, Hill fought through the course's tight turns and track to take the holeshots and a solid finish.
Over in Women's Moto X Racing, Monster Energy's Kiara Fontanesi grabbed the holeshot in the main event and led the early portion of the race before settling for a solid and well-deserved bronze medal.
In the all-video, all mountain freestyle snowboarding contest known as Real Snow Backcountry, Mikey Rencz took gold. Judged by a panel of industry experts, Rencz's insane 90-second part can be seen here: http://tinyurl.com/lj655hv
Monsterenergy.com is the hub for all the highlights from Los Angeles, including full results, recaps, and exclusive photos and videos produced by Monster Energy.
About Monster Beverage Corporation:
Based in Corona, California, Monster Beverage Corporation is the leading marketer and distributor of energy drinks and alternative beverages. Refusing to acknowledge the traditional, Monster Beverage Corporation supports the scene and sport. Whether motocross, off-road, NASCAR, BMX, surf, snowboard, ski, skateboard, or the rock and roll lifestyle, Monster is a brand that believes in authenticity and the core of what its sports, athletes and musicians represent. More than a drink, it's the way of life lived by athletes, sports, bands, believers and fans. See more about Monster Beverage Corporation including all of its drinks at http://www.monsterenergy.com.