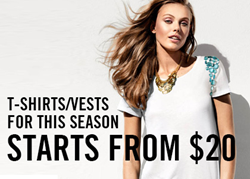 SAVE UP TO 70% plus FREE SHIPPING
(PRWEB) August 07, 2013
It's raining offers at the Sheinbox.com online store for women. They're now offering the latest summer designs for almost 45-60% less than the original price. Besides this, the store's also offering free shipping worldwide every day. And to the new visitors, they are offering a $5 discount on signing up. Then shoppers can input the correct code and use the discount as their wishes.
"We've keenly followed the women's dresses trends for 2013 and are proud to say that our collection is reflective of the latest trends in the women's apparel industry. Shoppers can choose from a wide array of t-shirts, tops, skirts, bags and lots more," says a spokesperson for the store. The store has more than 10,000 fashion items. The company also updates their collection with the latest pieces so that shoppers are in line with the changes in the fashion industry around the world.
Since 2010, Sheinbox.com has been offering the latest collections. In fact, as soon as a trend debuts in the fashionable streets and shows of Milan or London, shoppers can be sure that it is made available to fashion around the world. The women's tops are same as the ones available at the high streets of London, New York, Tokyo, Paris and Milan.
"Our targeted customers are women from 18 to 35, who're now dominating and even directing fashion sensibilities around the world," said the spokesperson.
About Sheinbox:
Sheinbox is a Hong Kong based company that has been providing the latest in women's fashion to people around the world. The Company's design and development team brings out the latest style that has hit the high streets of fashion capitals around the world.
To know more, visit http://www.sheinbox.com.