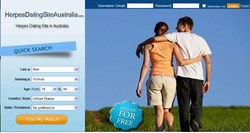 For Singles Living with Herpes(genetal, oral) to find Local support and love in Perth, Brisbane, Melbourne, Sydney and other Australian cities.
(PRWEB) August 08, 2013
HerpesDatingSiteAustralia.com is a new dating website that just launched to give men and women suffering from herpes a chance to connect, date and potentially begin a future together. The site is quickly becoming one of the top Herpes dating sites in Australia. The owner of the site announced its launch and revealed the reason for bringing this important site to life. "Approximately one in six Australians are affected by Herpes," according to a site spokesperson. "We offer these individuals a way to meet and connect without worrying about the stigma of their disease."
The website is confidential and involves anonymous communication between members. This is very important to those suffering from Herpes as they often face scorn and ridicule in the broader society. Those interested in signing up with the site simply visit http://www.herpesdatingsiteaustralia.com/ and register. The site includes very strong privacy setting so members can avoid unwanted viewers of their profile and even keep their profile and email hidden until they are ready to reveal those details.
Those who have signed up already have been impressed with the level of security built into the site and many have been surprised at how safe and secure they feel posting their information and reaching out to others on the site.
The site allows users to set up their profile free and then they are able to connect to millions of other users who also have Herpes. Visitors to the site are able to search for other members of the opposite or same sex and enter their preferred age range and location. They are then able to view profiles that match their criteria and make a connection.
This important site is live now and currently accepting new members. To learn more, visit this new site at http://www.herpesdatingsiteaustralia.com/.