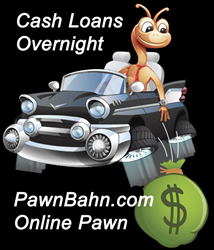 "We're excited to be providing our get cash from home in less than 24hrs process to those within the continental United States," states Troy Perkins CEO
San Antonio, TX (PRWEB) August 06, 2013
PawnBahn announced today the official launch of their new "online" pawn shop - PawnBahn.com. The new online pawn shop site was created to fulfill the company's goal of providing more customers with the same quick, secure, and confidential services that PawnBahn's local clientele experience daily at their brick-n-mortar store, along with the highest loans offers available within 24-hours.
Based out of San Antonio, Texas, PawnBahn has been meeting the financial needs of local customers since July 2012, taking client appointments in their secure and private office space. Each client's valuable collateral property never leaves the client's sight throughout the total certified review process.
"Our San Antonio pawn shop clients tell us that lucrative loan offers, security, and confidentiality are of upmost importance to them, so now we're excited to be providing these same quality services to those within the continental United States," states Troy Perkins, CEO and Founder of PawnBahn in San Antonio. "As our nation continues to experience stressful economic times, we see resurgence of people seeking loans. Today, our online pawn shop customers can also enjoy profitable loan offers, completed as quickly and easily as our local customers have experienced, with our stellar security and privacy."
All acceptable loan items of PawnBahn.com's clients are insured during shipping; and are insured during their storage time, too, in a secure, climate controlled location. And all pawned jewelry and valuables are housed in a federally insured bank vault, unlike most online pawn shop companies.
"Our online pawn shop customers will be surprised when they read all the benefits of using PawnBahn.com, as we offer them the best value and security for their transactions. Also they will be greatly helped from our FAQs page, as we've provided every means for our customers to enjoy an easy, confident, and profitable experience," shares Troy Perkins.
Of course, PawnBahn will continue to assist their local San Antonio clients in their same professional manner, but they look forward to an immense growth from their new online pawn shop customers, during the second half of 2013, with the addition of PawnBahn.com.
About PawnBahn.com LLC
Established in 2013, PawnBahn.com is the premier online pawn shop specializing in offering profitable loans on clients' valuables in a quick, easy, secure and private process. PawnBahn is located at 15743 San Pedro Avenue, San Antonio, Texas 78232. (210) 305.5564. Email address is info@pawnbahn.com. Both PawnBahn and PawnBahn.com operate under OCCC Texas pawn shop license 17172-7512. To keep apprised of the latest news from PawnBahn, visit them at: PawnBahn.com, on Facebook, or Twitter @PawnBahn.