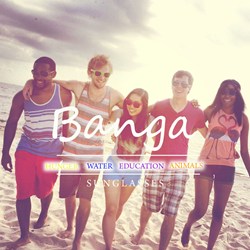 Wear a Banga. Make a wave. Change the world.
New Orleans, LA (PRWEB) August 06, 2013
Banga Sunglasses is the newest trend taking the fashion world by storm. Debuting at college campuses across the nation later this summer, both kids and adults alike are buying 2 and 3 pairs at a time to beat the rush before they are sold out. The company is currently stocking up on inventory to meet pressing demand and prepping for a whirlwind of orders in the fall.
Banga is the Lithuanian word for "wave". For Banga Sunglasses, it is based on the idea that even a small gesture of kindness can make a difference in someone's life. With four logo colors each representing a different cause, Banga's mission is to pair consumers' love of sunglasses with their desire to help others. The yellow Banga logo represents hunger, blue for water, orange for animals, and purple for education. For each cause, Banga is partnered with a related charity and has set up a system for those joining the movement to see how their contribution is making an impact.
This unique take on the trending idea of supporting a cause through fashion is creating a buzz amongst all those who have heard. Traditionally, the color of the fashion item itself represents the cause, leaving the consumer with little room for customization. However, Banga has decided to pioneer a new concept by allowing buyers to choose their own frame colors and then pick one of the four causes represented by the logo on the side. The line has launched with two collections, the Aces and the Classics. Both styles come in trendy colors that create unique variations once paired with the logo of choice.
With all of the excitement surrounding this new line of sunglasses, there's no wonder people are buying multiple Bangas for themselves and gifts for loved ones. Many are excited for the opportunity to look good while making an impact in someone's life. The company's tag line is "Wear a Banga. Make a wave. Change the world," and at this rate, Banga will definitely be making a tidal wave this year.
For more info, pictures and updates visit http://www.bangasunglasses.com.