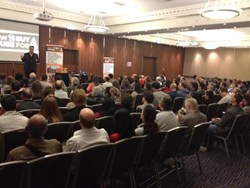 The traditional process worked when the economy was in good condition, but after the global financial crisis funding for housing loans are lesser that's why there are only a handful of people who can get a loan
(PRWEB) August 05, 2013
"Taking risks is a part of investing. Some risks may be contained, but others are harder to control like security risks," said Rick Otton, renowned author of How To Buy A House For A Dollar, on the recent popularity of a troubled suburb with real estate New South Wales investors.
Mt. Druitt, a suburb 43 km west of Sydney, has grabbed the attention of law enforcers in the past few years because of crimes committed and proliferating in the neighbourhood; but it's recently attracted interest from many property investors because at least 40 percent of Mt. Druitt residents are renters.
As a consequence, Mt. Druitt has been labelled as the newest property hotspot in New South Wales, according to news reports.
"I've always taught my students that they don't need to chase every property hotspot in the country in order to get a bargain," Mr. Otton said during a recent episode of Creative Real Estate iTunes podcast.
"A hotspot can be anywhere where you can buy NSW property for one dollar," he said.
Mr. Otton explained in the podcast that it's possible to buy NSW property that cheap because of the abundance of home owners who want to walk away from the debt they owe with the house they own.
"We use one dollar to transfer the debt of one person to another who is willing to pay the debt attached with the NSW property. This is what makes creative real estate strategies unique, since traditional processes require buyers to get a new bank loan to get a house," he said.
"The traditional process worked when the economy was in good condition, but after the global financial crisis funding for housing loans are lesser that's why there are only a handful of people who can get a loan," Mr. Otton said.
"Investors should always make a logical assessment of the real estate NSW before taking the plunge of actually getting the property. Moreover, they must be careful not to enter a market just because it is a "hot" market and realize that hot markets can be found anywhere if they follow creative strategies," he added.
You can visit http://www.howtobuyahouseforadollar.com/ now to get early seat reservations for Rick Otton's one-day seminar for free in Sydney on 7 August.
About Rick Otton
Rick Otton has spent decades making money by snapping up inexpensive real estate and putting it to work building wealth, and teaching others to do the same.
He is the founder and CEO of We Buy Houses, which operates in the US, UK, Australia and New Zealand, and through this business he puts his strategies to work every day.
Mr Otton received his start in alternative real estate investment in 1991 in the US, and within a year acquired 76 properties. In subsequent years, he made a fortune using his low-risk, high-reward strategies to inexpensively acquire real estate. He continues to do so.
As well Mr Otton travels between his home in Australia, and the UK, sharing his wisdom and teaching others how to buy and sell real estate, free from the constraints imposed by traditional lenders.
In 2013 Rick is celebrating the 10 year anniversary of introducing his property option strategies to real estate investors in the United Kingdom – the first person to reveal these ground-breaking strategies. In 2008 he created the first of his 'Houses for a Pound' strategies, upon which he grows as markets and laws evolve.
Mr Otton has been featured in a variety of television programs and magazines and in 2013 he published 'How To Buy A House For A Dollar' for the Australian market. This book has been named in the list of the Top 10 Most Popular Finance Titles for 2013, as voted by Money Magazine and Dymocks Book stores. A UK version is on the drawing board.
For full details of Mr Otton's upcoming 'How to Buy a House for a Dollar' seminars in major cities across the nation, visit HowToBuyAHouseForADollar.com or phone, in Australia 1300 888 450.
For general information about Mr Otton, visit http://www.RickOtton.com.