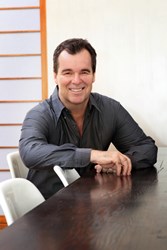 We're seeing a level of buyer confidence that's finally translating into tangible and consistent purchasing activity.
(PRWEB) August 06, 2013
Real estate millionaire, Rick Otton, will host an exclusive ultimate real estate bootcamp for property investors in regional Victoria this August. The Geelong property event will teach students non-traditional ways to earn positive cash flow and gain long-term wealth as a new report shows Australian home buyer activity is finally taking an upward turn across the nation.
According to the Australian Property Monitors, Australian house prices have risen for the third consecutive quarter and are set to keep climbing.
"We're seeing a level of buyer confidence that's finally translating into tangible and consistent purchasing activity," Mr Otton said.
"According to the data, Melbourne has recorded the strongest growth for the quarter than any other state, with a rise of 5 per cent, and 6.1 per cent for the year. While housing market activity can sometimes be driven by urban centres, regional property investors willing to adopt new, out-of-the-box strategies such as those I'll be sharing at the free Geelong seminar stand to benefit as well."
Secret to success in Geelong real estate
For the past decade, Mr Otton has shared his property millionaire secrets with tens of thousands of students from different parts of the world through ultimate wealth summit events, workshops and seminars.
"The Geelong 'How to Buy a House for a Dollar' event forms part of a series of hands-on events I'll be holding across Australia in August," Mr Otton said.
"I'm putting on this free event valued at $1,597 as part of my mission to educate the masses about creative ways to buy and sell houses without a bank, a deposit, stamp duty and little or none of your own money."
"I'll be sharing remarkable property investment strategies that I discovered more than 20 years ago that are simple, yet transformational."
The Geelong real estate event is an intensive 'straight-talk' workshop jam packed with live demonstrations, interactive exercises and activities to train students in Mr Otton's latest 'no-money-down' property strategies.
"It doesn't matter if you have a little or a lot of property experience, just bring an open mind and I promise to show you proof how you can make positive cash flow in today's market," he said.
For full details of the Geelong property event, visit HowToBuyAHouseForADollar.com.au or phone, in Australia 1300 888 450.
For general information about Mr Otton, visit http://www.RickOtton.com.
About Rick Otton
Rick Otton has spent decades making money by snapping up inexpensive real estate and putting it to work building wealth, and teaching others to do the same.
He is the founder and CEO of We Buy Houses, which operates in the US, UK, Australia and New Zealand, and through this business he puts his strategies to work every day.
Mr Otton received his start in alternative real estate investment in 1991 in the US, and within a year acquired 76 properties. In subsequent years, he made a fortune using his low-risk, high-reward strategies to inexpensively acquire real estate. He continues to do so.
As well Mr Otton travels between his home in Australia, and the UK, sharing his wisdom and teaching others how to buy and sell real estate, free from the constraints imposed by traditional lenders.
In 2013 Rick is celebrating the 10 year anniversary of introducing his property option strategies to real estate investors in the United Kingdom – the first person to reveal these ground-breaking strategies. In 2008 he created the first of his 'Houses for a Pound' strategies, upon which he grows as markets and laws evolve.
Mr Otton has been featured in a variety of television programs and magazines and in 2013 he published 'How To Buy A House For A Dollar' for the Australian market. This book has been named in the list of the Top 10 Most Popular Finance Titles for 2013, as voted by Money Magazine and Dymocks Book stores. A UK version is on the drawing board.
For full details of upcoming Rick Otton events, visit HowToBuyAHouseForADollar.com or phone, in Australia 1300 888 450.