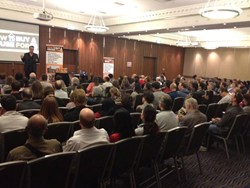 It is part of my mission to help 10,000 Australians buy a property for one dollar, without a bank, a huge deposit or going into debt
(PRWEB) August 08, 2013
Australian real estate strategist, Rick Otton, has revealed that regional property investors in Queensland will have an exclusive chance to learn his 'How to Buy a House for a Dollar' – and other non-conventional strategies. Mr Otton will host a Townsville property event on 20 August, in the wake of freshly released data that shows Queensland property buyers are more cautious about entering the property market than their interstate peers.
According to credit reporting agency, Veda, mortgage enquiries rose 6.9 percent in the June quarter, the highest level of growth in three years.
However, the agency said that while this heralded positive news for the property sector, potential Queensland home buyers were more cautious, with enquiries increasing by only 1.6 percent for the June quarter.
Mr Otton said it was important for investors to understand that with his 'out of the box' real estate strategies, there was no such thing as a bad time to invest.
"It is part of my mission to help 10,000 Australians buy a property for one dollar, without a bank, a huge deposit or going into debt," he said.
"With my easy to copy yet proven strategies, I'll share with regional investors in Queensland transformational techniques on how to turn a $1 investment into positive cash flow, making tens of thousands of passive dollars a month so they can live the lifestyle of their dreams. My strategies are recession proof and work outside the realm of market trends."
Part of Mr Otton's secret to success, he says, lies in the fact that his techniques aim to create financial freedom through win-win situations for all parties involved, through unconventional marketing, sales and negotiation methods.
One of his key strategies, for example, involves students simply acting as middle parties between property buyers and sellers. By controlling assets rather than owning them, they take on minimal risk, but have much to gain.
"The strategies that I will share at the Townsville property event are priceless. While some people shake them off as 'impossible', my students are out there using these strategies to generate ongoing passive income transactions," Mr Otton said.
He will hold a series of 'How to Buy a House for a Dollar' events across Australia throughout August. The jam-packed, super-charged Townsville property seminar will include live demonstrations, interactive exercises and activities.
For full details of the Townsville property event, visit HowToBuyAHouseForADollar.com.au or phone, in Australia 1300 888 450.
For general information about Mr Otton, visit http://www.RickOtton.com/.
About Rick Otton
Rick Otton has spent decades making money by snapping up inexpensive real estate and putting it to work building wealth, and teaching others to do the same.
He is the founder and CEO of We Buy Houses, which operates in the US, UK, Australia and New Zealand, and through this business he puts his strategies to work every day.
Mr Otton received his start in alternative real estate investment in 1991 in the US, and within a year acquired 76 properties. In subsequent years, he made a fortune using his low-risk, high-reward strategies to inexpensively acquire real estate. He continues to do so.
As well Mr Otton travels between his home in Australia, and the UK, sharing his wisdom and teaching others how to buy and sell real estate, free from the constraints imposed by traditional lenders.
In 2013 Rick is celebrating the 10 year anniversary of introducing his property option strategies to real estate investors in the United Kingdom – the first person to reveal these ground-breaking strategies. In 2008 he created the first of his 'Houses for a Pound' strategies, upon which he grows as markets and laws evolve.
Mr Otton has been featured in a variety of television programs and magazines and in 2013 he published 'How To Buy A House For A Dollar' for the Australian market. This book has been named in the list of the Top 10 Most Popular Finance Titles for 2013, as voted by Money Magazine and Dymocks Book stores. A UK version is on the drawing board.
For full details of upcoming Rick Otton events, visit HowToBuyAHouseForADollar.com or phone, in Australia 1300 888 450.
For general information about Mr Otton, visit http://www.RickOtton.com