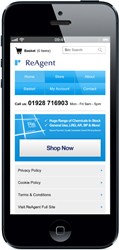 We wanted to be able to offer our customers the optimum experience for any device.
(PRWEB UK) 6 August 2013
Visitors to ReAgent.co.uk can still browse the shop, send enquiries, manage account settings and place orders and the simplified layout means that everything loads more quickly over a mobile data connection.
ReAgent IT Manager Steve Williams explains, "We wanted to be able to offer our customers the optimum experience for any device from smartphones to desktop computers. Users can still rely on the same level of data security and data protection they enjoy when purchasing on the desktop site. The mobile site just offers more choice for our customers."
ReAgent is a well-established chemical company with over 35 years' experience manufacturing and supplying chemicals to a wide range of industry sectors including pharmaceuticals, the automotive industry, water treatment and chemical engineering. Having been at the forefront of web-based development, the company is now one of the leading online chemical companies in the UK and is committed to investing in website technology to improve its customer service.
Managing Director Richard Hudson adds, "Since developing our online presence, we have seen a surge in internet orders and our investment in the new mobile site is based on the continued growth of users accessing the website via a mobile device. We just want to make life easier for our customers by offering them a secure, reliable, hassle-free experience regardless of how they access our website."
Further details about the company and its range of products and services can be found on the ReAgent website at http://www.reagent.co.uk/.