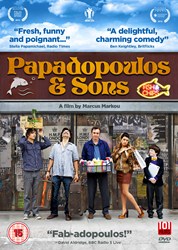 Winner of the Michael Cacoyannis Audience Award from the 2012 Thessaloniki Film Festival
London, UK (PRWEB UK) 5 August 2013
A "fresh, funny and poignant snapshot of ethnic life in London" (Stella Papamichael, Radio Times), writer/director Marcus Markou's debut feature "Papadopoulos & Sons" dances its way onto DVD through HMV and Amazon.co.uk from Monday, 5th of August.
After uptight, self-made millionaire Harry Papadopoulos (Stephen Dilane – "Game of Thrones", "The Hours") loses everything in the banking crisis, he is forced to team up with his estranged, free spirited brother Spiros (Georges Corraface) to rebuild his empire from the only part that remains – an abandoned Fish & Chip shop in a run-down part of London.
Also starring Georgia Groome ("Angus, Thongs and Perfect Snogging"), Frank Dillane ("Harry Potter and the Half-Blood Prince") and Ed Stoppard ("Upstairs, Downstairs"), "Papadopoulos & Sons" comes to home video via distributor 101 Films, following a highly unusual – and hugely successful – self-distribution release across British cinemas.
British-born Greek Cypriot writer/director Markou decided to self-distribute the film in April, after traditional distributors rejected the film, claiming it could not find an audience. Markou disagreed, and decided to self-finance the release. It was a gamble, but it paid off – the film was a UK box office success and has since been sold to distributors in various territories around the world, including a highly successful run in Germany. "Papadopoulos & Sons" is set to be released in the USA this October.
"This is a film about the spirit of family unity and survival," says Markou. "When I look back, its right that it got rejected and then went on to become a success. This is, after all, the story of Cyprus itself and of most Cypriots. We are plucky underdogs and we love to bounce back!"
Winner of the Michael Cacoyannis Audience Award from the 2012 Thessaloniki Film Festival, "Papadopoulos & Sons" is "an ambitious attempt to rewrite Lear for laughter rather than tears. It's a throwback, but relaxed, sweet and funny with it: a first feature that makes an impression by not pushing too hard to make an impression" (Mike McCahill, The Guardian)
"Papadopoulos & Sons" is available on DVD through HMV and Amazon.co.uk from Monday, 5th of August.