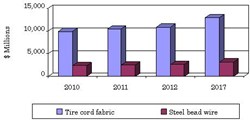 Wellesley, MA (PRWEB) August 06, 2013
According to a new technical market research report, Tire Reinforcement Materials: Technologies and Global Markets (AVM077B), from BCC Research (http://www.bccresearch.com), the market for tire reinforcement materials was valued at $13 billion in 2011 and $13.5 billion in 2012. The report forecasts total market value to surpass $16 billion in 2017, after increasing at a five-year compound annual growth rate of 3.6%.
Tire reinforcement materials are made from steel and manmade fibers. Tire reinforcement materials include steel cord fabric, steel wire, polyester cord fabric, rayon cord fabric, nylon cord fabric, aramid cord fabric, and PEN (polyethylene naphthalate) cord fabric. These materials are used for manufacturing carcasses, belt plies, cap plies, and bead for tires for automobiles, bicycles, motorcycles, and other vehicles.
This report discusses the technologies and market scenario prevalent in the steel fiber and tire industries and ascertains their influence on demand and scope of development. Tire reinforcement materials market is closely dependent on the tire industry and therefore, global and regional tire productions are also described in this report.
BCC Research has identified significant trends in the industry that will affect growth over the next five years. Some of these include weight reduction, strength improvement, noise reduction, cost-performance improvement, and the ability to recycle.
The study has categorized the tire reinforcement materials market into two major sectors: tire cord fabric and steel bead wire. Tire cord fabric is the material for manufacturing tire reinforcement components such as carcasses, belt plies, and cap plies. The bead wire segment includes steel bead wire, a tire component for anchoring the tire to the rim.
The largest tire reinforcement material market is the tire cord fabric market. This market accounted for 44.5% of the tire reinforcement materials market in 2011. The market will continue to dominate tire reinforcement materials owing to the fast-growing heavy-duty tire carcass market and production. Boosted by rising radial tire output, this segment is expected to grow quickly through 2017.
This BCC Research report will help readers achieve a comprehensive understanding of the recent advances and trends in tire reinforcement material manufacturing, applications, and global and regional markets. Towards this end, this report will cover tire reinforcements manufactured with steel, polyester, rayon, nylon, aramid, PEN (polyethylene naphthalate), and other materials. This study measures and forecasts the present consumption and future demand for these materials for global markets categorized by eight world regions: China, North America, South America, Western Europe, Eastern Europe, India, East Asia and the Association of Southeast Asian Nations (ASEAN), and the rest of the world.
This report is intended for tire cord fabric manufacturers, technical fiber producers, technical textile producers, steel wire and steel filament producers, and tire manufacturers. Automobile producers, steel makers, and chemical suppliers will also find this report beneficial.