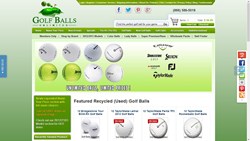 "We always listen to our customers and try to provide features and benefits that they want. This latest site update is one more step towards our eventual goal of providing the best possible e-shopping experience." states found Rahul Saraswat
Atlanta, GA (PRWEB) August 07, 2013
As temperatures begin to hit record highs, many people are sticking to the indoors to avoid the oppressive heat. However, there are some who continue to soldier on, to fight the good fight, and continue battling the everlasting conflict of a life without golf. For those selfless shankers and determined drivers, GolfBallsUnlimited.com has launched their new site with tons of new features, and easy navigation.
The Name Your Price section has expanded its product list to include a wider variety for people to name their own prices. This section has previously been one of the major draws for site traffic, and the pros at Golf Balls Unlimited are encouraged to see that continue.
For the first time ever, there will be an exclusive "Members Only" section. Customers with this elite pass will gain access to specific items that will only be on sale to them.
The new ball finder section will allow a customer to send in a specific request for any make or model that they don't see in the digital showrooms. Now there will no longer be any lingering doubts as to whether or not a preferred favorite or lucky brand is attainable.
For those with specific needs, there will now be a section dedicated to the latest updates of 2012 and 2013, for color golf balls and lady balls. Product reviews now accompany items so anyone can see whether or not a new or unexplored item is worth purchasing.
Sharing deals and items over social media is now easier, and so is the checkout process for a more streamlined purchasing experience.
Golf Balls Unlimited would like to encourage any and all players to check out the new additions for their swinging pleasure.
Golf Balls Unlimited was established over 10 years ago as an affordable and efficient way of getting the best in used, bulk, recycled and top quality golf balls for less. They also carry new golf gear and new golf balls at deeply discounted prices. Their goal is to provide every golf enthusiast with brand name golf gear at affordable prices. All purchases made on their website are processed and shipped from their warehouse facilities in Atlanta. For over a decade, they have established themselves as competitive players in the market with superior Customer Service being a corner stone of their business philosophy. All used golf balls sold on their site are collected from premier golf courses in the United States, gently cleaned and hand sorted. Their quality control is one of the best in the industry.