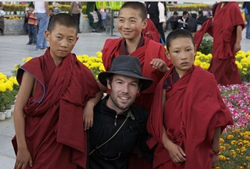 (PRWEB) August 05, 2013
"The scenery of the train ride is wonderful," Explore Tibet have said. "Travellers will see spectacular views of stunning lakes, snowcapped peaks and glaciers, endangered wildlife like Tibetan antelopes, and lone nomad families dwelling in black tents and scattered villages."
The Tibet tour begins in Beijing, where travellers visit Tiananmen Square, as well as the Forbidden City and the Summer Palace. An excursion to the Great Wall of China is also included.
The tour proceeds by train to Xian, the ancient capital of China, where travellers visit the 2,200 year old Terracotta Warriors, before continuing into Tibet. The whole tour will be sponsored by Fairy Gift.
"The train will traverse into Qinghai plateau," Fairy Gift, the official distributor of AW IMR battery, have said. "The appearance of snowcapped mountains will indicate arrival in the Tibetan plateau, where the cloudy and moist weather changes into a dry and sunny blue sky."
Explore Tibet will re-open to foreign tourist start from April 1st , with no group size limitation, and no mixed nationality limitation—groups of different nationalities can travel together.
Explore Tibet is a locally-owned travel agency committed to responsible tourism, Tibetan travel permit and sustainable practice.
For more, please visit: http://www.exploretibet.com/