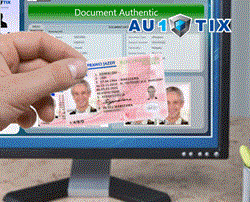 This problem is by no means marginal as many countries host a substantial population of illegal immigrants, foreign visitors or even own citizens who refrain from providing their full or fully correct personal data.
Nicosia, Cyprus (PRWEB) August 12, 2013
CIFAS, UK's Fraud Prevention Service, has released its Fraudscape tracker for the first half of 2013 which reveals that over a half (52%) of all UK fraud cases involve the use of fake identity details, or impersonation of an innocent victim. "Personal details" says CIFAS: "are still the most valuable for fraudsters."
(http://www.stockmarketwire.com/article/4644040/Identity-fraud-accounts-for-over-a-half-of-all-fraud-says-CIFAS.html)
Traditional practice for fighting identity fraud is simply querying customer identity data against government or private identity authentication (also known as identity verification, validation or proofing) and screening services. These resources are labeled by professionals as "digital footprint". Such queries may involve resources like phone directories to electoral rolls, criminal records, PEP lists, credit rating services, etc.
This practice may indeed work, provided that the following conditions are filled:
1. The applicant submits his or her real personal data or ID document
2. If issues do exist then the applicant is flagged in the said resources
3. If issues do exist then the data entered for the applicant matches the one in the respective resources
But unlike common impression, even if the customer's data is fully and correctly submitted there is a probability of up to 1 in 7 that this person's "digital footprint" is partial, incorrect or missing altogether! This problem is by no means marginal as many countries host a substantial population of illegal immigrants, foreign visitors or even own citizens who refrain from providing their full or fully correct personal data. Exactly for this reason, secure ID documents (ID cards, driving licences, Passports, etc.) continue to have a critical role in the fight against identity fraud.
And exactly to fill this gap, AU10TIX has been proving enterprises and agencies a range of solutions for automating the authentication of secure ID documents. These solutions make ID authentication and record generation much more consistently accurate, speedy and cost-effective than manual processing.
"Even if you have some kind of customer data referencing solution," says Ron Atzmon, MD of AU10TIX: "It doesn't mean you're fully covered. All databases have their weaknesses. It might be updatedness, it might be data entry errors or gaps, it might be query data keying typos, or it might be other issues. One of the important issues is not having no data, or no sufficient data, about the person you need to authenticate. And that may happen in up to up to 1 in 7 cases!"
About AU10TIX
AU10TIX Limited, a fully owned subsidiary of ICTS International N.V, deals with the authentication and digitization of identifying documents, including: Passports, identity cards, driving licenses and other complementary identifying documents. The company specialises in implementing hardware & software based applications used for scanning, identifying and acquiring identity documents, authenticating them and their owners, in real-time. The company's products drastically reduce identity and document based fraud in organisations, reducing the costs associated with processing clients, improving compliance competence and effectiveness with related regulations, while making the sales and support operations more efficient. For more information, visit http://www.au10tix.com.
About ICTS International N.V.
ICTS specialises in the development and implementation of innovative security concepts and solutions designed to meet the needs of a variety of industries, mainly aviation transportation, border control and sensitive facilities. ICTS International benefits from over two decades of expertise and international operational experience in transportation security, with a particular emphasis on high-risk environments, passenger processing transactions and the integration of security services to provide a comprehensive security solution. It also offers a wide variety of customised training programs, tailored procedures and a wide range of security consulting services. The company has developed and implemented unique technological solutions, based on its comprehensive approach to security, designed to enhance the level of security while accelerating the security check process. For more information, visit http://www.icts-int.com.
This press release contains "forward-looking statements" within the meaning of the Private Securities Litigation Reform Act of 1995, regarding the Company's business strategy and future plans of operations. Forward-looking statements involve known and unknown risks and uncertainties, both general and specific to the matters discussed in this press release. These and other important factors, including those mentioned in various Securities and Exchange Commission filings made periodically by the Company, may cause the Company's actual results and performance to differ materially from the future results and performance expressed in or implied by such forward-looking statements. The forward-looking statements contained in this press release speak only as of the date hereof and the Company expressly disclaims any obligation to provide public updates, revisions or amendments to any forward-looking statements made herein to reflect changes in the Company's expectations or future events.
Contact:
AU10TIX Limited
Ofer Friedman, Director of Marketing
Email: ofer.friedman(at)au10tix(dot)com
Tel.: +972-50-4 71 71 50
ICTS International NV
Alon Raich + 00-972-974-47770
mail(at)ictsinternational(dot)com