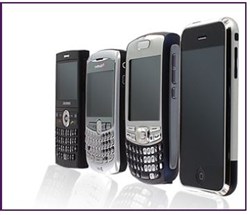 despite the pressure often exerted on a business to 'go mobile', embarking on a mobile app needs to be considered carefully
(PRWEB UK) 6 August 2013
MSM Software, a specialist company in custom software and bespoke development, concluded that enterprise mobile app development must be planned carefully, whilst creating their latest whitepaper entitled "How to achieve competitive advantage with an enterprise mobile app".
The paper provides a step-by-step guide on how to embark on a new enterprise mobile app project, whilst maintaining a return on investment upon completion.
Key findings of the paper include revelations of the most common business problems which could be eased by a mobile solution. These include but are not limited to:

Mobile workers relying on paper-based forms and needing to return to the office to input information captured in the field.
Job management for mobile workers is planned manually.
Paper forms create inaccuracy and/or security concerns.
Managers are unable to track the progress of their team.
Sinead O'Brien, Managing Director from MSM Software said:
"There is no question that enterprise apps can transform the way a business operates. Take our client, Guideline Lift Services as an example - we helped to make their job management process five times faster through an enterprise app. However, a word of caution; despite the pressure often exerted on a business to 'go mobile', embarking on a mobile app needs to be considered carefully if you are to ensure a return on investment. That's why we've produced this detailed six step guide to make sure you develop a mobile app which is right for your business."
For a full copy of the report, download it free of charge from: http://www.msmsoftware.com/infopages/how-to-achieve-competitive-advantage-with-an-enterprise-mobile-app.aspx