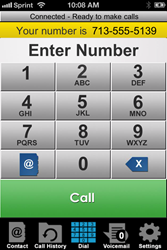 We are thrilled to partner with Raketu to develop an exciting new app providing access to CapTel on Wireless Devices. - Mike Ellis, Director-Sprint Relay
New York, NY (PRWEB) August 06, 2013
Raketu, a leading global Internet and mobile communications company, today announced the expanded Partnership with Sprint to provide mobile applications that allow deaf and hard-of-hearing users to read their conversations with the aid of captions.
Wireless CapTel® by Sprint® allows users to read conversations with real-time word-for-word captions on their wireless phones. Designed for individuals with hearing loss, Wireless CapTel by Sprint's users place and receive calls in the same way they would when using a traditional phone. The revolutionary application then connects directly to the captioning service where the user can listen to what the other person is saying, and at the same time, read captions on the phone's display screen.
"We are thrilled to partner with Raketu to develop an exciting new app providing access to CapTel on Wireless Devices," said Mike Ellis, Director-Sprint Relay.
The Wireless CapTel by Sprint application powered by Raketu technology is now available on iPhone, iPad and iPod devices. The application can be downloaded from the Apple App Store or iTunes for free.
The Wireless CapTel by Sprint application powered by Raketu technology is also available on Android devices. The application can be downloaded from the Android Play store for free.
Raketu continues to be a market innovator and expand its mobile and internet offerings giving users the most comprehensive communications services. With the recent addition of the RakDroid application, Android users are now able to make free Raketu to Raketu voice, video and IM calls, make voice calls to landline/mobile phones, and send text messages over 3G, 4G and WiFi. Raketu has by far the lowest rates for global dialout and texting. The application can be downloaded from the Android Play Store.
Raketu, based on its patent pending proprietary technology, provides reliable and secure communications for business and consumers alike.
About Raketu Communications Inc.
Since 2006, Raketu Communications Inc. has been developing leading edge applications that provide communications services for customers and businesses, across mobile, tablet, desktop and laptop devices. Raketu has developed and released many first-to-market applications, including mobile video calling, cloud based video calling, and server-less peer-to-peer communications. Raketu currently has users in over 150 countries around the world. For more information, visit the company's website at: http://www.Raketu.com.
About Sprint Relay
Sprint is the largest and most technologically advanced Telecommunications Relay Service provider in the nation with more than 20 years of experience in providing relay services to persons who are deaf, hard-of-hearing or deaf-blind or have a speech disability to communicate with hearing persons on the phone. Sprint's experience in this field assures Sprint Relay users receive quality service regardless of the type of relay service they are using. Sprint's relay service is available 24 hours a day, 365 days a year, with no restrictions on the number of calls placed or call length. For more information, visit http://www.sprintrelay.com.
About Sprint
Sprint offers a comprehensive range of wireless and wireline communications services bringing the freedom of mobility to consumers, businesses and government users. Sprint served more than 55 million customers at the end of the first quarter of 2013 and is widely recognized for developing, engineering and deploying innovative technologies, including the first wireless 4G service from a national carrier in the United States; offering industry-leading mobile data services, leading prepaid brands including Virgin Mobile USA, Boost Mobile, and Assurance Wireless; instant national and international push-to-talk capabilities; and a global Tier 1 Internet backbone. The American Customer Satisfaction Index rated Sprint as the most improved company in customer satisfaction, across all 47 industries, during the last five years. Newsweek ranked Sprint No. 3 in both its 2011 and 2012 Green Rankings, listing it as one of the nation's greenest companies, the highest of any telecommunications company. You can learn more and visit Sprint at http://www.sprint.com or http://www.facebook.com/sprint and http://www.twitter.com/sprint
About CapTel
CapTel is a registered trademark of Ultratec, Inc. In partnership with Ultratec, CapTel services are available as a component of Sprint's array of Relay services. Designed for people who are hard-of-hearing, CapTel users place a call in the same way they would when using any other phone – by dialing the number directly on a special Captioned Telephone. The phone connects callers to the CapTel service as the number is dialed. When the other person answers, callers can listen to what the other person says while reading captions on the phone's display screen to catch words that may be missed. Captions appear nearly simultaneously with spoken words.
Sprint is a trademark of Sprint.
Android and Android Play Store are trademarks of Google Inc.
iPhone, iPad and iPod are trademarks of Apple Inc.
Raketu is a registered trademark of Raketu Communications Inc.
Other marks are the property of their respective owners.