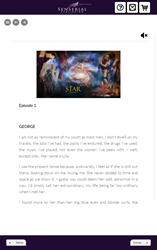 Readers gain access to the first episodes of any of the e-books completely free of charge!
(PRWEB) August 08, 2013
Innovative E-book Publishing House Has Released Its First Few Episodes Online
Recent developments in technology have seen the rise of reading e-books over traditional hard covers and paperbacks. Many book lovers have readily switched to reading on their laptops, smart phones, and tablets simply due to its convenience and accessibility. E-books are readily available online these days, but Senserial Publishing, a digital publishing house created in January of 2012, has taken these digital books to a whole new level.
Reading Books Like Never Before
Senserial Publishing aims to take reading to another level by incorporating reading elements and traditions from hardcover and paperback books, all while taking advantage of the technology that's available to us now. Senserial offers e-books that can be read in an exciting series style, with an episode being released every week. This way, much like a favourite TV show, readers can have something to look forward to weekly.
Senserial published its first episodes back in July 3 of 2013 and has since published several chapters. As of August 6th, they have also published the first 4 chapters on Amazon. So book lovers can easily visit their website or Amazon to start reading today.
While all of Senserial's e-books can be downloaded in full and read in the traditional style, readers who want something extraordinary can opt to read the books with impressive graphics and a musical score to enhance their reading experience. This helps readers further immerse themselves into the colorful worlds portrayed in each series. This is an especially excellent feature to use during storytelling with kids, or simply anytime you want to liven up your reading time.
Senserial Publishing offers two options for each episode:

An illustrated eBook version that comes in three formats: .pdf, .epub, .mobi.
An eBook version that is specially made for tablets like iPad.
An added advantage that Senserial Publishing provides is the affordability of their e-books. Because excessive costs for paper and printing are saved during production, readers can save and pay only for the great stories that they want to read. Additionally, upon signing up on their website, readers gain access to the first episodes of any of the e-books completely free of charge!
About Senserial Publishing House
Senserial publishing is a contemporary publishing house that maintains its presence online. It was created by Christian Jorda in the beginning of 2012 along with it´s co-founder Adam Azani. They soon partnered up with Abner Dumandan, Jr., who is the creative genius behind the series' images and all digital book files. Senserial Publishing employs a talented team of writers who work passionately towards creating excellent series that will keep readers hooked for many years to come.
If you want to learn more about their company, or if you're ready to sign up and start reading, you can simply visit their website.