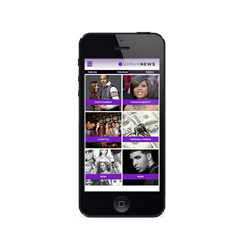 We couldn't have selected a more perfect time to release our reader app
Atlanta, GA (PRWEB) August 07, 2013
Today, there are a variety of news reader apps for your smartphone like Feedly, BuzzFeed, Rockmelt and Pulse. But unlike most of these reader apps that target the mainstream, Urban News is highly curated for the multicultural market.
OMBO Apps, an Atlanta-based app development company, has just debuted its latest app, Urban News, a social news reader app that delivers the most popular news stories of the day.
Urban News is one of the first reader apps to emerge since the shuttering of Google Reader on July 1st. According to Shaun Evans, CEO and co-founder of OMBO Apps, "We couldn't have selected a more perfect time to release our reader app."
A news reader app is basically a software application that monitors syndicated feeds typically using an RSS from subscribed websites. Once you've subscribed to a website's RSS feed, every time the site publishes a new story, that story will also be delivered to the news reader app in real time.
Urban News solves a really big problem for urban mobile consumers because previously there was no place to go to discover the most popular news. The app aims to change the game by becoming the premiere source for getting multicultural news via mobile devices.
Although Urban News has sophisticated technology behind it, the app provides a very user-friendly mobile experience. To get started, all users have to do is download the app from iTunes, log-in with a Twitter, Facebook or e-mail account, and the trending stories will start to display on the home screen.
For users looking for the latest news based upon a particular interest, like celebrity, fashion or sports, the app's recent section will have everything curated by topic. Another cool feature is the popular section where users can find the most compelling stories of the day, based upon user-generated activities such as commenting, liking or sharing.
So if you're looking for trending stories relevant to the multicultural market, then look no further than Urban News. It's absolutely free and available in the iTunes App Store. Also, to keep up with the latest app updates, join their Facebook page here: https://www.facebook.com/UrbanNewsApp/.