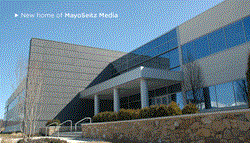 We have big expectations for our new staffers and they are already busy on a variety of agency accounts, said Jon Seitz
Blue Bell, PA (PRWEB) August 07, 2013
MayoSeitz Media announced today that it has hired five new employees to staff the agency's growing client needs and new accounts.
The five new employees and their roles are:
Lauren Angelini, Assistant Communications Planner. Lauren is a Temple University graduate and a recent MayoSeitz Media Intern.
Kelli Atchison, Broadcast Negotiator Kelli joins the agency from RPA where she had been a Local Media Services Supervisor on Honda, Acura, MGM Studios accounts among others.
Michael Brisgone, Assistant Communications Planner Michael joins the agency from B101 and is a 2011 Temple University graduate.
Brittany Resnick, Assistant Communications Planner Brittany joins the agency from the Philadelphia Weekly and is a 2012 graduate of Indiana University
Lisa Stormont, Senior Communications Planner Lisa joins MayoSeitz Media from Tierney where she had worked on the TD Bank account and Sunrise Senior Living accounts.
"We are fortunate to be growing and when we do we seek the best and brightest candidates in the industry", said Ray Mayo, Co-Founder, Managing Director. "We have big expectations for our new staffers and they are already busy on a variety of agency accounts", added Jon Seitz, Co-Founder, Managing Director.
MayoSeitz Media is one of the leading independent media agencies in the United States. It is also one of a handful of independent media agencies to qualify and be accepted to the American Association of Advertising Agencies (4As), the leading industry association. Fewer than 10% of all agencies are 4As members, yet 4As members place 80% of all media placed by agencies throughout the United States. MayoSeitz Media clients include Subway, Dietz & Watson, Virtua, Comcast SportsNet, Philadelphia Phillies, Penn Medicine, Greater Philadelphia Tourism, Hershey Entertainment & Resorts, Trex, among many others. For more information please visit http://www.mayoseitzmedia.com/.