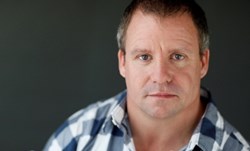 Mansfield, MA (PRWEB) August 07, 2013
A Massachusetts optometrist has become the first in the state to attain a Certified Nutrition Specialist status. The Certified Nutrition Specialist (CNS) certification is awarded by The Certification Board for Nutrition Specialists (CNBS). The mission of this certification is to promote health through professional nutritional care. CNS certified professionals help people overcome their nutritional challenges.
The CNS credential requires an advanced degree qualification along with nutrition experience. Candidates then need to pass a rigorous test to be awarded the certification. There are only 8 optometrists in the entire country that have attained CNS certified status.
Dr. Hayden owns Hayden Optometric in Mansfield, and feels proud of his accomplishment. He says, "It is an honor to be awarded this certification. It took a lot of hard work and countless hours, but it was well worth it. It is my hope to take the information I have learned and continue to enhance my patients' experience in our office."
Always having given nutritional advice to his patients, Dr. Hayden believes many eye conditions such as macular degeneration require nutritional intervention. He was recently in the news for his Fish Oil Calculator, an IPhone app, which is a revolutionary way to calculate the precise amount of essential fatty acids one should add to their diet.
Patients of Hayden Optometric happily follow the advice of Dr. Hayden. Andrew M. of Cambridge expressed his views: "I have been visiting Dr. Hayden for many years for regular eye checkups. I love the nutritional tips I always get from him."
However, Dr. Hayden not only talks the talk, he walks the walk. Apart from being an optometrist, Dr. Hayden is a Black Belt in Mixed Martial Arts, and a Level 1 Certified Crossfit trainer. "He is like a total fitness guru," says Bandon C. of New Bedford. "I get valuable insight from him regarding personal fitness, and I follow his advice."
Dr. Hayden became certified in Anti Inflammatory Nutrition by the Inflammation Research Foundation in 2011. He received his Doctor of Optometry degree from the New England College of Optometry in 1992. The CNS certification is just another feather in his cap.
For more information, contact:
Joel B. Hayden, OD, CNS
94 North Main Street
Mansfield, MA 02048
joelhayden(at)me(dot)com