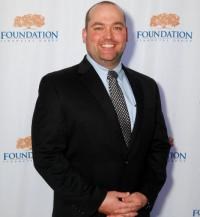 One thing I love about belonging to the FFG family is that we really are more than just a company. Everyone here is given the opportunity to make their career whatever they want.
Atlanta, Georgia (PRWEB) August 08, 2013
Foundation Financial Group announced the promotion of Marc Chillion to EVP of Sales for the financial services corporation. While Chillion's position requires him to travel around the country, he is based in the Atlanta Regional Sales Center, located at 100 Galleria Pkwy #1400.
"I can't wait to see what Marc does with the EVP of Sales Position," said James Brodsky, Chief Human Resources Officer. "He is the guy everyone gets along with, but his competitive nature motivates the office in a fun and challenging way. Chillion brings an incredible energy to every team he joins and especially the ones he leads."
Chillion, whose hometown is Chattanooga, Tennessee, started working at Foundation Financial six years ago this month. What began as an entry-level sales position in a fledgling mortgage company has grown into an award-winning career at a multibillion dollar financial services corporation. From August 2012 to July 2013, Chillion helped expand FFG's Retail Branch Division, opening new locations in Indiana, Kentucky, Colorado, Michigan, and Tennessee. Now, Chillion and his coworkers are gearing up to launch Foundation Financial Group's first California location.
Since 2006, Chillion has been promoted six times and received corporate recognition for his contributions to FFG. At Foundation Financial Group, excellence in sales leadership and management is rewarded with the company's prestigious Cornerstone Award; he has earned five Cornerstones. Chillion also received FFG's 2012 Excellence in Human Resources Award for promoting the most employees and having the lowest turnover among his peers.
"When I first started out with FFG, I struggled for about a year," said Chillion. "Once I found my stride though, I excelled in management and have since been entrusted with guiding the careers of increasingly more employees. One thing I love about belonging to the FFG family is that we really are more than just a company. Everyone here is given the opportunity to make their career whatever they want. And as management, I play an active role in helping employees realize their potential."
In his spare time, Chillion enjoys working in the yard and spending time at home with his wife and their boys: Carter, the toddler, and Cooper, the Labrador. He is also active in the various philanthropic campaigns that Foundation Financial Group conducts to give back to its communities. Chillion's favorite campaigns are the charity 5K runs that raise funds and awareness for causes like animal adoption and disease research.
About Foundation Financial Group
Foundation Financial Group is a multibillion dollar financial services corporation. FFG offers its customers Best in Class service through its Insurance, Retirement, and Mortgage Services. Named one of the fastest growing financial companies in the country by INC magazine, FFG has continued to grow its nationwide presence with over 100,000 new customers per year in 39 states. In addition to the value that Foundation Financial provides every customer, it is also dedicated to its communities and the people who live in them. Through a vast array of philanthropic endeavors the company not only provides significant monetary donations but also fosters a workforce environment that encourages all team members to personally make a difference. Foundation Financial is committed to its strong focus on customer service and community investment as it continues to grow and compete with the largest financial institutions in the world.
Foundation Financial Group reviews all public relations inquiries. For additional information, interview and image requests, contact the Foundation Financial Group Public Relations Team.