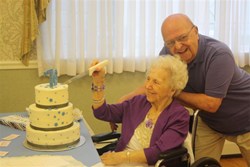 Wallingford, CT (PRWEB) August 06, 2013
They say "It takes a village." The staff and managers at Regency House Nursing & Rehabilitation Center proved that when they hosted a 70th anniversary party for residents Ralph and Mary Correia on July 24.
The center's staff, managers and their friends and neighbors worked together to put on a party for a much admired Wallingford couple celebrating 70 years of marriage. The center's administrator enlisted the help of her friends and neighbors – having champagne flutes hand-painted for the couple to use during a toast and getting chocolate bars custom wrapped with the couple's information as a keepsake for guests. "The floral arrangements came from our admissions director's garden. The cake was donated by a local bakery. Much of the meal was purchased by us at cost from our friends at East Side Market here in Wallingford. My management team volunteered their time to wait tables and prep the meals. It truly was a team effort," stated the center's administrator, Penni Martin.
The three-tiered wedding cake was donated by Alyssa's Cakery, on nearby Center Street in Wallingford. Alyssa and her husband Dan are themselves newlyweds, having tied the knot less than three months ago, so this party held a little more meaning for them.
Nikki Lieto, director of dining services at Regency House, spearheaded the effort after hearing Mrs. Correia tell staff that her 70th wedding anniversary was coming up. "I couldn't let it go. I just couldn't let something like that go by without a celebration for them. They are such wonderful people and what a testament to their love and devotion to each other."
Daughter in-law Eve Correia, worked with the Regency House staff throughout the planning of the party. "Nikki, from Regency House, contacted me and arranged the whole thing. We spoke on the phone every day – I reached out to family and friends and Nikki designed and sent the invitations out, and arranged for everything – from the menu to the cake to the decorations. It was wonderful," stated Eve Correia.
Mike Melillo, a Wallingford resident all his life, has known the couple for nearly 30 years. "They were both fixtures at the Wallingford YMCA: Ralph used to work the weights, while Mary swam in the pool. They are well-liked people, had a great social life playing cards regularly with friends and they always got along well. It's great to see them honored," stated Melillo.
Those in attendance included Wallingford Mayor William Dickinson, Jr., the Correia's son Ralph Jr., his wife Eve, their two grandsons, a great-grandson, a niece, Mary's former home care aid, their former "handyman," members of their church, friends from their card group and their "new" friends at Regency House.
When it came time for the couple to arrive at the surprise event, there were few dry eyes left in the center's main dining room. Mary and Ralph entered the room to a round of applause and standing ovation, followed by hugs and reminiscing with friends and family members.
Jen Donovan, RN, Regency House's director of nursing services introduced Mayor Dickinson who presented a proclamation from the Town of Wallingford declaring July 24, 2013 "Mary & Ralph Correia Day."
Guests enjoyed French onion soup, followed by penne alla vodka, then a mixed greens salad, and topped off by the main course, which included a choice of filet mignon, stuffed shrimp, or Cornish game hens. Once the dinner plates were cleared, a traditional cake cutting by the "bride and groom" took place.
Eighty-eight year old Mary thanked the guests, including "wonderful family and friends who I've known for 50 years, and now my new friends at Regency House." Ralph added some comic relief to the touching moment by adding in his comments after Mary's impromptu remarks: "That goes for me too," to a round of laughter and applause.
Both Ralph, originally of Lowell, MA and Mary, born in Mt. Vernon, NY, moved to Wallingford in their teens, where they lived only as far as a block away from each other. They began dating when Mary was 16 and Ralph was 18, and married on July 24, 1943. Ralph served in the Army and later worked for more than 30 years at Allegheny-Ludlum, while Mary raised their two-children Ralph Jr. and Vera at their Wallingford home.
Regency House, located at 181 East Main Street in Wallingford, is a 130-bed skilled nursing facility specializing in short-term, post hospital rehabilitation care in their signature Passport To Home Rehabilitation Program, as well as long-term nursing care and Alzheimer's and dementia care. For more information on Regency House, including short-term rehabilitative stays, resident placement or employment opportunities, please visit http://www.RegencyHouseWallingford.com .
About the Company:
National Health Care Associates (NHCA) offers skilled nursing care services as well as extensive programs for short-term rehabilitation and post-hospital care in areas including orthopedic, cardiovascular, neurological, and post-surgical recovery and rehabilitation. NCHA manages the care of more than 5,000 patients and residents and employs more than 7,500 professional caregivers and related staff. NHCAs signature Passport Rehabilitation program is aimed at helping patients and their families return to the best quality of life possible following a hospitalization or an acute medical episode through individualized occupational, physical and/or speech language therapies.
Founded in 1984, National Health Care Associates (NHCA) is a growing network of 39 skilled nursing and rehabilitation centers located throughout the Northeast (Connecticut, Maine, Massachusetts, New Hampshire, New Jersey, New York and Vermont), each sharing the common commitment to the highest level of quality care, a focus on customer service and providing a nurturing environment for both patients and families.
For more information on this and other National Health Care Associates affiliated facilities, including short-term rehabilitative stays, resident placement or employment opportunities, please visit http://www.nathealthcare.com