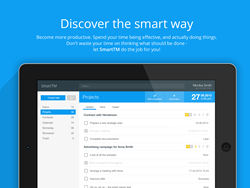 Think like a man of action, act like a man of thought.
Torun, Poland (PRWEB) August 05, 2013
Champagne was flowing in Torun, Poland last night as the Polish developer OneMln ltd. have been announced as winners of the Evernote DevCup 2013 in the category for best application for business integration.
"We feel incredibly honored to have won the best application for business integration with such strong competition in our group. We would like to thank Evernote and our users worldwide for voting for SmartTM®. We now have our fingers crossed that we will have further success later this month and be shortlisted to showcase our app at the Evernote conference in San Francisco. We would also like to congratulate our fellow Poles at Bubble Browser for their win the design achievement category. The result has demonstrated that small Polish developers have the ability to take on big developers with a small budget and bounds of creativity and enthusiasm! Once again we would like to thanks everyone who has supported SmartTM® and we hope we will have more opportunities in the future to present SmartTM® on the world stage," stated Karol Stojek, the CEO of the company OneMln.com
On 16th August, the Evernote platform team will announce the six finalists who will be flown out to San Francisco to present their respective applications. The 16th August will also see Docomo Innovation Ventures, Honda Silicon Valley Lab, and Wayra Accelerator announce which teams they are sponsoring to receive EC3 passes in recognition for their work. SmartTM will be in the running for both awards.
For more information about SmartTM, please visit http://www.smarttm.co