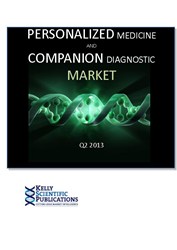 Rockville, MD (PRWEB) August 08, 2013
Personalized Medicine and Companion Diagnostic Market Q2 2013 - A Strategic Analysis of Industry Trends, Technologies, Participants, and Environment
The personalized medicine and associated companion diagnostic market have huge opportunities for growth. This industry will revolutionize the healthcare system and will improve therapeutic effectiveness and reduce the severity of adverse effects. It has enormous potential for investment and the emergence of genetic-based in vitro diagnostics.
Individualized, targeted or personalized medicine aims to increase the efficacy of therapeutics via genetic testing and companion diagnostics. Personalized therapeutics and associated companion diagnostics will be more specific and effective thereby giving pharma/biotech companies a significant advantage to recuperate R&D costs. Personalized medicine will reduce the frequency of adverse drug reactions and therefore have a dramatic impact on health economics. Developmental and diagnostic companies will benefit from lower discovery and commercialization costs and more specific market subtypes.
This report describes the current technologies that are propelling the personalized medicine and companion diagnostic market. It examines the current genetic diagnostic tests and companion diagnostic assays that are in use by the medical and pharmaceutical industry today. Current developments in personalized medicine and the pharmacogenomics revolution are discussed. The emerging trends that appear in key markets such as the US, UK, Germany and France are elucidated and analysed. This study reveals market figures of the overall personalized medicine market and also sub-market figures. Forecast projections and future growth rates are provided to give the reader a forthcoming perspective of this growing industry.
To order this report:
Personalized Medicine and Companion Diagnostic Market Q2 2013- A Strategic Analysis of Industry Trends, Technologies, Participants, and Environment
Contact: Shauna
800.298.5699
Customerservice(at)marketresearch(dot)com
About Kelly Scientific Publications
Kelly Scientific Publications specializes in pharmaceutical, biotechnology and medical diagnostic industries. They offer high end reports that focus on emerging markets and key niche industries. Initiated by Deirdre Kelly PhD, they are located in Dublin, Ireland and provide business intelligence, market insights, and competitor analysis. Kelly Scientific Publications clients include business leaders in industry, biotech, pharmaceutical, government departments, and hi-tech organizations.
About MarketResearch.com
MarketResearch.com is the leading provider of global market intelligence products and services. With research reports from more than 720 top consulting and advisory firms, MarketResearch.com offers instant online access to the world's most extensive database of expert insights on global industries, companies, products, and trends. Moreover, MarketResearch.com's Research Specialists have in-depth knowledge of the publishers and the various types of reports in their respective industries and are ready to provide research assistance. For more information, call Cindy Frei at 240.747.3014 or visit http://www.marketresearch.com.
Follow us on Facebook http://www.facebook.com/marketresearchdotcom
Follow us on Twitter http://www.twitter.com/marketresearch_
Personalized Medicine and Companion Diagnostic Market Q2 2013- A Strategic Analysis of Industry Trends, Technologies, Participants, and Environment – Table of Contents:
1.0 Executive Summary
2.0 Introduction
3.0 Personalized Medicine Therapeutics and Companion Diagnostics
4.0 Personalized Medicine and Integration into the Healthcare System
5.0 Private and Public Funding and Personalized Medicine Reimbursement
6.0 European Personalized Medicine Market – Payments and Investment
7.0 Personalized Medicine –Business Model Analysis
8.0 Personalized Medicine Main Industry Players
9.0 Personalized Medicine Industry Products and Kits
10.0 Personalized Medicine Market Analysis
11.0 Strengths and Advantages of Personalized Medicine
12.0 Restraints of the Personalized Medicine Market
13.0 Personalized Medicine and Regulatory Policies
14.0 Final Summary and Future Perspectives