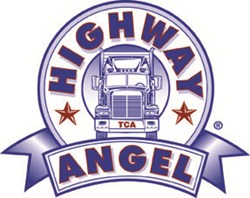 Lindsay Lawler is taking her music on the road to help to restore the perception of professional truck drivers as 'Knights of the Highway'.
Alexandria, Virginia (PRWEB) August 06, 2013
It is said that music can break down barriers and bring people closer together. With this in mind, the Truckload Carriers Association (TCA) is pleased to announce that country recording artist Lindsay Lawler, the spokesperson for TCA's Highway Angel program, is about to begin a concert tour of 26 truck stops across southeast and Midwest America. Her "Highway Angel Truck Stop Tour" is designed to enhance the trucking industry's image.
The unique tour – the first attempt of this kind to help restore the perception of professional truck drivers as "Knights of the Highway" – runs from August 19-October 30, 2013, and is sponsored by TravelCenters of America/Petro Stopping Centers (TA/Petro). Each of the stops at the 26 TA/Petro locations will feature an hour-long acoustic performance by Lawler from the top of a flatbed truck, sponsored by Fikes Truck Line, and a live, two-hour radio remote through Renegade Radio Nashville. To further enhance the interactive, family-friendly experience, trucking carriers and other companies are signing up to be stop sponsors, where they will greet drivers, talk about their services, and show general support for Lawler and the trucking industry.
Tom Kretsinger, Jr., TCA's chairman and the president of American Central Transport, Inc., Liberty, Missouri, said, "We're very proud of Lindsay, and are lucky to have such a gifted and talented artist as the spokesperson for Highway Angels. The fact that she's getting out in front of both drivers and local communities at truck stops across America speaks to her devotion to trucking and its ideals."
Lawler's songs are both entertaining and pro-trucking – a powerful combination when it comes to changing stereotypes about the trucking industry. She brought TCA's Highway Angel program into the country music spotlight in 2010, when she wrote a tribute to the program's honorees – men and women drivers who perform extraordinary acts on the road every day, sometimes even saving lives. She became the spokesperson for the program in 2012. Some of her other songs, including "For the Long Haul," "Truckers and Rodeo Crowds," and "He Loves the Road," contain lyrics that spotlight the trucking lifestyle in a positive way.
When the subject of trucking is brought up, Lawler's passion and sincerity is readily apparent. "Since I got involved with the trucking industry, I've met the nicest people in the world, particularly drivers, who are like rock stars to me," said Lawler. "It is my honor and privilege to take my show on the road and hopefully connect with lots of people, both inside and outside of the trucking industry."
For a listing of the tour locations, dates, and times, as well as information about how to become a Highway Angel Truck Stop Tour sponsor, please visit http://www.TruckStopTour.com.
To nominate a driver as a Highway Angel, or to learn more about the program and its honorees, visit http://www.truckload.org/Highway-Angel.
# # #
TCA is the only national trade association whose collective sole focus is the truckload segment of the motor carrier industry. The association represents dry van, refrigerated, flatbed, and intermodal container carriers operating in the 48 contiguous states, as well as Alaska, Mexico, and Canada. Representing operators of more than 200,000 trucks, which collectively produce annual revenue of more than $20 billion, TCA is an organization tailored to specific truckload carrier needs.