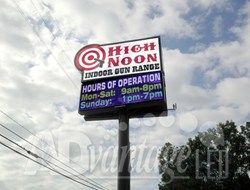 Our new sign is magnificent! I was expecting bigger and better, and now I've got it!
Crosby, TX (PRWEB) August 06, 2013
ADvantage LED announced the completion of one of their most recent successful projects. High Noon Gun Range purchased a new Retail LED Sign measuring 2' -10 1/2" x 7' - 5 5/8" with a 12.5mm iPixel Full Color 64x176 iMatrix Double Face Display to increase traffic and exposure for their business. The LED sign displays advertisements and specials, hours of operation, holiday greetings and encouraging messages for the community of Crosby, TX.
A family owned and operated business, High Noon Gun Range provides those of all skill levels a safe environment for learning and improving upon their shooting abilities to promote responsible gun ownership and use. They found themselves in need of a more dynamic way to announce their business hours, concealed hand gun licensing class times and other services to their community. They turned to ADvantage LED, also a Texas based company, to fulfill their advertising needs.
Richard James of ADvantage LED Signs said, "For this particular project, the services we rendered were LED sign manufacturing, identification sign manufacturing, complete sign installation, content creation services, ongoing comprehensive software training and technical support during installation."
Owner and Manager of High Noon Gun Range, Brenda Shimek, had nothing but great things to say about their finished product. Shimek exclaimed, "My goodness! Am I happy to see the sun, stars, moon, fireworks and explosions of imagination!" She continued, "Our new sign is magnificent! I was expecting bigger and better, and now I've got it! Job well done, ADvantage LED!" Brenda also noted that she wanted to thank the dedicated IT support team at ADvantage LED for their fast service and knowledgeable assistance.
Owner and Manager Travis Shimek said that the sign works perfectly and looks great. He added that he wishes to express his sincere appreciation for ADvantage LED's excellent customer service in getting the project completed promptly and efficiently from start to finish. High Noon is currently using their new LED display to draw in new customers with eye catching advertisements.
In regards to the signs ADvantage provides, Richard James stated, "Our high definition, high resolution displays have been proven to convert more drive by traffic to in-store traffic than other advertising methods. Our unique technology displayed in these signs also creates a greater brand recall and more effectively communicates store specials and public service announcements. Our customers consistently agree our signs are a great investment because they lead to increased sales."
About ADvantage LED Signs:
Established in 2009, ADvantage LED Signs manufactures LED signs and billboards, selling direct to organizations and businesses nationwide. ADvantage LED Signs offers total turn-key solutions, stating that no job is too big or too small for their company. An A+ Better Business Bureau accredited company, ADvantage LED Signs has become known for their expertise and quality, unmatched by others in the industry. Signs provided include restaurant, retail, medical office, car wash, government and more, both in full and single color.