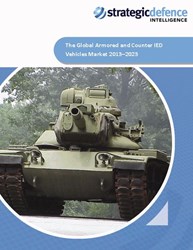 Rockville, MD (PRWEB) August 09, 2013
The Global Armored and Counter IED Vehicles Market 2013–2023
"The Global Armored and Counter IED Vehicles Market 2013–2023" provides a detailed analysis of the current industry size and growth expectations from 2013 to 2023, including highlights of key growth stimulators. It also benchmarks the industry against key global markets and provides detailed understanding of emerging opportunities in specific areas.
With the war in Iraq coming to an end, and the US governments plans underway to withdraw its troops from Afghanistan as well, the MRAP segment is set to witness a drastic slump in demand. The US DoD has stopped further procurement of MRAPs and is planning to move 60% of these vehicles into storage or prepositioned stocks.
Advanced economies such as the US, the UK, France, Germany, and Japan are following strict austerity measures in allocating defense budgets. The US has already scheduled the decrease of the defense budget over the next decade. These budget cuts warrant in cancellation of various programs as well as pose challenge towards equipping the army with modern warfare.
Key Highlights:
-Major armored vehicle markets such as North America and Europe are increasingly adopting wheeled armored vehicles rather than tracked vehicles. This has come as an effect of drastically reducing possibilities of tank wars by these major countries in the near future. The service life of tracked vehicles is up to 30,000 kilometers before it needs a major overhaul where as the wheeled armored vehicles have service lives up to one million kilometers.
-Large defense companies who are looking to gain foothold in a specific segment at a foreign location are acquiring smaller firms specializing in that segment and that already possess a considerable market share. Furthermore, the immediate need to protect troops from asymmetric threats in Afghanistan and Iraq has resulted in the production of niche products in the vetronics and survivability sectors by small and medium enterprises (SMEs).
To order this report:
The Global Armored and Counter IED Vehicles Market 2013–2023
Contact: Shauna
800.298.5699
Customerservice(at)marketresearch(dot)com
About Strategic Defence Intelligence
Strategic Defence Intelligence provides a stream of continuously updated customer and competitor intelligence, as well as detailed research reports providing an unrivalled source of global information on the latest developments in the defence industry. Strategic Defence Intelligence's unique monitoring platform tracks global defence activity for over 2,500 companies and 65 product categories in real time and in a highly structured manner, giving a comprehensive and easily-searchable picture of all defence industry activity.
About MarketResearch.com
MarketResearch.com is the leading provider of global market intelligence products and services. With research reports from more than 720 top consulting and advisory firms, MarketResearch.com offers instant online access to the world's most extensive database of expert insights on global industries, companies, products, and trends. Moreover, MarketResearch.com's Research Specialists have in-depth knowledge of the publishers and the various types of reports in their respective industries and are ready to provide research assistance. For more information, call Cindy Frei at 240.747.3014 or visit http://www.marketresearch.com.
Follow us on Facebook http://www.facebook.com/marketresearchdotcom
Follow us on Twitter http://www.twitter.com/marketresearch_
The Global Armored and Counter IED Vehicles Market 2013–2023 – Table of Contents:
1 Introduction
2 Executive Summary
3 Global Armored and Counter IED Vehicles Market Size and Drivers
4 Industry Trends, Recent Developments and Challenges
5 SWOT Analysis of the Armored and Counter IED Vehicles Market
6 Country Analysis – Armored and Counter IED Vehicles Market
7 Major Armored and Counter IED Vehicles Programs
8 Competitive Landscape and Strategic Insights
9 Appendix
List of Tables
Table 1: Global Armored and Counter IED Vehicles Market Overview
Table 2: Global Armored and Counter IED Vehicles Market Overview
Table 3: SWOT Analysis of the Armored and Counter IED Vehicles Market
Table 4: Leading Armored and Counter IED Vehicles Markets and Top Three Segments
Table 5: US Armored and Counter IED Vehicles Market Overview
Table 6: Key US Armored and Counter IED Vehicles Programs
Table 7: Russian Armored and Counter IED Vehicles Market Overview
Table 8: Key Russian Armored and Counter IED Vehicles Programs
Table 9: UK Armored and Counter IED Vehicles Market Overview
Table 10: Major UK Armored and counter IED vehicles Programs
Table 11: French Armored and Counter IED Vehicle Market Overview
Table 12: Major French Armored and Counter IED Vehicle Programs
Table 13: Chinese Armored and Counter IED Vehicles Market Overview
Table 14: Major Chinese Armored and Counter IED Vehicle Programs
Table 15: Australian Armored and Counter IED Vehicles Market Overview
Table 16: Major Australian Armored and Counter IED Vehicles Programs
Table 17: Indian Armored and Counter IED Vehicles Market Overview
Table 18: Major Indian Armored and Counter IED Vehicles Programs
Table 19: Algerian Armored and Counter IED Vehicles Market Overview
Table 20: Major Algerian Armored and Counter IED Vehicles Programs
Table 21: Saudi Arabian Armored and Counter IED Vehicles Market Overview
Table 22: Major Saudi Arabian Armored and Counter IED Vehicles Programs
Table 23: Israeli Armored and counter IED vehicles Market Overview
Table 24: Major Israeli Armored and counter IED vehicles Programs
Table 25: Brazilian Armored and Counter IED Vehicles Market Overview
Table 26: Key Brazilian Armored and Counter IED Vehicles Programs
Table 27: Colombian Armored and Counter IED Vehicles Market Overview
Table 28: Key Colombian Armored and Counter IED Vehicles Programs
Table 29: Program Details – Future Rapid Effect System (FRES) Specialist Vehicle
Table 30: Program Details – Ground Combat Vehicle (GCV)
Table 31: Program Details – Puma
Table 32: Program Details – T-90
Table 33: Program Details – K2 Black Panther
Table 34: Program Details – Altay
Table 35: Program Details – Marine Personnel Carrier (MPC)
Table 36: Program Details – VBTP-MR Guarani Program
Table 37: Program Details – Boxer
Table 38: Program Details – VéhiculeBlindé Multirole (VBMR)
Table 39: Program Details –Sapula
Table 40: Program Details – Mine Resistant Ambush Protected All-Terrain Vehicle (M-ATV)
Table 41: Program Details – Joint Light Tactical vehicle (JLTV)
Table 42: Program Details – Tactical Armored Patrol Vehicle (TAPV)
Table 43: Program Details – Protected Mobility Vehicles–Light (PMV-L)
Table 44: Program Details – Porteur Polyvalent Terrestre (PPT)
Table 45: Program Details – Medium Support Vehicle System (MSVS)
Table 46: Program Details – Vistula
Table 47: Key Global Armored and Counter IED Vehicles Manufacturers and Capabilities
Table 48:General Dynamics Land Systems Inc. – Alliances
Table 49:General Dynamics Land Systems Inc.: Recent Contract Wins
Table 50:Nexter S.A.: Alliances
Table 51:Nexter S.A.: Recent Contract Wins
Table 52: Denel Land Systems – Alliances
Table 53:Denel Land Systems: Recent Contract Wins
Table 54:Oshkosh Defense: Alliances
Table 55:Oshkosh Defense: Recent Contract Wins
Table 56:RheinmetallLandsysteme GmbH: Alliances
Table 57:RheinmetallLandsysteme GmbH: Recent Contract Wins
Table 58:Thales: Alliances
Table 59: Thales – Recent Contract Wins
Table 60:China North Industries Corporation (NORINCO): Alliances
Table 61:China North Industries Corporation (NORINCO): Recent Contract Wins
Table 62:Uralvagonzavod: Recent Contract Wins
Table 63:Krauss-MaffeiWegmann: Alliances
Table 64:Krauss-MaffeiWegmann: Recent Contract Wins
Table 65:IVECO S.p.A.: Alliances
Table 66:IVECO SpA: Recent Contract Wins
Table 67:Renault Truck Defense: Alliances
Table 68:Renault Truck Defense: Recent Contract Wins
Table 69:Hyundai Rotem: Recent Contract Wins
Table 70:Navistar Defense – Alliances
Table 71:Navistar Defense: Recent Contract Wins
Table 72:Otokar: Recent Contract Wins
Table 73:OtoMelara– Alliances
Table 74:OtoMelara: Recent Contract Wins
Table 75:Panhard – Alliances
Table 76:Panhard: Recent Contract Wins
Table 77:BAE Hagglunds – Alliances
Table 78:BAE Hagglunds: Recent Contract Wins
List of Figures
Figure 1: Global Armored and Counter IED Vehicles Market (US$ Billion), 2013–2023
Figure 2: Armored and Counter IED Vehicles Market Breakdown by Region (%), 2013–2023
Figure 3: North American Armored and Counter IED Vehicles Market (US$ Billion), 2013–2023
Figure 4: European Armored and Counter IED Vehicles Market (US$ Million), 2013–2023
Figure 5: Asia-Pacific Armored and Counter IED Vehicles Market (US$ Million), 2013–2023
Figure 6: Middle East Armored and Counter IED Vehicles Market (US$ Million), 2013–2023
Figure 7: African Armored and Counter IED Vehicles Market (US$ Million), 2013–2023
Figure 8: Latin American Armored and Counter IED Vehicles Market (US$ Million), 2013–2023
Figure 9: Armored and Counter IED Vehicles Market Breakdown by Segment (%), 2013–2023
Figure 10: Global IFV Market Size (US$ Billion), 2013–2023
Figure 11: Global MBT Market Size (US$ Billion), 2013–2023
Figure 12: Global APC Market Size (US$ Billion), 2013–2023
Figure 13: Global MRAP Market Size (US$ Billion), 2013–2023
Figure 14: Global LMV Market Size (US$ Billion), 2013–2023
Figure 15: Global Tactical Truck Market Size (US$ Billion), 2013–2023
Figure 16: Defense Capital Expenditure of Top Three European Defense Spenders (US$ Billion), 2013–2023
Figure 17: Defense Capital Expenditure of Top Three Asian Defense Spenders (US$ Billion), 2013–2023
Figure 18: Defense Capital Expenditure of Top North American Defense Spenders (US$ Billion), 2013–2023
Figure 19: Defense Capital Expenditure of Top Three South American Defense Spenders (US$ Billion), 2013–2023
Figure 20: Defense Capital Expenditure of Top Three African Countries (US$ Billion), 2013–2023
Figure 21: Defense Capital Expenditure of Top Three Middle Eastern Defense Spenders (US$ Billion), 2013–2023
Figure 22: Armored and Counter IED Vehicles Market in the US (US$ Billion), 2013–2023
Figure 23: Armored and Counter IED Vehicles Market Split By Category in the US (%), 2013–2023
Figure 24: IFV Market Size in the US (US$ Billion), 2013–2023
Figure 25: APC Market Size in the US (US$ Billion), 2013–2023
Figure 26: LMV Market Size in the US (US$ Million), 2013–2023
Figure 27: Armored and Counter IED Vehicles Market in the Russia (US$ Billion), 2013–2023
Figure 28: Armored and Counter IED Vehicles Market Split By Category in Russia (%), 2013–2023
Figure 29: IFV Market Size in Russia (US$ Billion), 2013–2023
Figure 30: APC Market Size in Russia (US$ Million), 2013–2023
Figure 31: MBT Market Size in Russia (US$ Million), 2013–2023
Figure 32: Armored and counter IED vehicles Market in the UK (US$ Million), 2013–2023
Figure 33: Armored and counter IED vehicles Market Split by Sector in the UK (%), 2013–2023
Figure 34: IFV Market Size in the UK (US$ Million), 2013–2023
Figure 35: Tactical Truck Market Size in the UK (US$ Million), 2013–2023
Figure 36: Armored and Counter IED Vehicles Market in France (US$ million), 2013–2023
Figure 37: Armored and Counter IED Vehicles Market Split by Sector in France (%), 2013–2023
Figure 38: IFV Market Size in France (US$ Million), 2013–2023
Figure 39: APC Market Size in France (US$ Million), 2013–2023
Figure 40: Armored and Counter IED Vehicles Market in China (US$ million), 2013–2023
Figure 41: Armored and Counter IED Vehicles Market Split by Sector in China (%), 2013–2023
Figure 42: MBT Market Size in China (US$ Million), 2013–2023
Figure 43: MRAP Market Size in China (US$ Million), 2013–2023
Figure 44: IFV Market Size in China (US$ Million), 2013–2023
Figure 45: Armored and Counter IED Vehicles Market in Australia (US$ Million), 2013–2023
Figure 46: Armored and Counter IED Vehicles Market Split by Sector in Australia (%), 2013–2023
Figure 47: MRAP Market Size in Australia (US$ Million), 2013–2023
Figure 48: APC Market Size in Australia (US$ Million), 2013–2023
Figure 49: Tactical Trucks Market Size in Australia (US$ Million), 2013–2023
Figure 50: Armored and Counter IED Vehicles Market in India (US$ Million), 2013–2023
Figure 51: Armored and Counter IED Vehicles Market Split by Sector in India (%), 2013–2023
Figure 52: IFV Market Size in India (US$ Million), 2013–2023
Figure 53: MBT Market Size in India (US$ Million), 2013–2023
Figure 54: MRAP Market Size in India (US$ Million), 2013–2023
Figure 55: Armored and Counter IED Vehicles Market in Algeria (US$ Million), 2013–2023
Figure 56: Armored and counter IED vehicles Market Split by Sector in Algeria (%), 2013–2023
Figure 57: APC Market Size in Algeria (US$ Million), 2013–2023
Figure 58: Armored and Counter IED Vehicles Market in Saudi Arabia (US$ Million), 2013–2023
Figure 59: Armored and counter IED vehicles Market Split by Sector in Saudi Arabia (%), 2013–2023
Figure 60: MBT Market Size in Saudi Arabia (US$ Million), 2013–2023
Figure 61: APC Market Size in Saudi Arabia (US$ Million), 2013–2023
Figure 62: Armored and counter IED vehicles Market in Israel (US$ Million), 2013–2023
Figure 63: Armored and counter IED vehicles Market Split by Sector in Israel (%), 2013–2023
Figure 64: MBT Market Size in Israel (US$ Million), 2013–2023
Figure 65: Armored and Counter IED Vehicles Market in Brazil (US$ Million), 2013–2023
Figure 66: Armored and Counter IED Vehicles Market Split By Category in Brazil (%), 2013–2023
Figure 67: APC Market Size in Brazil (US$ Million), 2013–2023
Figure 68: IFV Market Size in Brazil (US$ Million), 2013–2023
Figure 69: Armored and Counter IED Vehicles Market in Colombia (US$ Million), 2013–2023
Figure 70: Armored and Counter IED Vehicles Market Split By Category in Colombia (%), 2013–2023
Figure 71: MBT Market Size in Colombia (US$ Million), 2013–2023
Figure 72: APC Market Size in Colombia (US$ Million), 2013–2023
Figure 73: General Dynamics Land Systems Inc. – Revenue Trend Analysis (US$ Billion), 2007–2011
Figure 74: General Dynamics Land Systems Inc. – Operating Profit (US$ Million), 2007–2011
Figure 75: General Dynamics Land Systems Inc. – Net Profit Trend Analysis (US$ Million), 2007–2011
Figure 76: Nexter S.A. – Revenue Trend Analysis (US$ Million), FY2008–2011
Figure 77: Nexter SA – Operating Profit Trend Analysis (US$ Million), FY2008–2011
Figure 78: Nexter SA – Net Profit Trend Analysis (US$ Million), FY2008–2011
Figure 79: Thales – Revenue Trend Analysis (EUR Billion), 2007–2011
Figure 80: Thales – Operating Profit (EUR Million), 2007–2011
Figure 81: Thales – Net Profit Trend Analysis (US$ Million), 2007–2011
Figure 82: Otokar – Revenue Trend Analysis (US$ Billion), 2008–2011
Figure 83: Otokar – Operating Profit (US$ Million), 2008–2011
Figure 84: Otokar – Net Profit Trend Analysis (US$ Million), 2008–2011