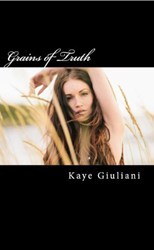 Baltimore, MD (PRWEB) August 06, 2013
The new book "Grains of Truth" completes ghost hunter and author Kaye Giuliani's "Charity Fish" trilogy about good-guy ghosts, including the central character in the first two books, Charity, the benevolent spirit of a teenage girl who was raped and murdered. With a familiarity of the subject matter, the author helps debunk myths about ghosts.
"There are many erroneous myths about ghosts – they've gotten a bad rap in the media for way too long," Giuliani says. "As a paranormal investigator, I know the spirits we run into are just people who have died; people like you and me who choose to walk among us because of their love for their family and friends."
Giuliani, who travels the country with members of her company Proof Finders Paranormal Investigations (http://www.prooffindersparanormal.com), says her research informs her series, which includes "Charity Fish" and "The Farmer Takes a Child." She uses her tender and sometimes tortured spirits as powerful characters who turn the tables on the myths about ghosts so many people believe.
In "Grains of Truth," the spirit of William James Poston, a man who took his life more than a century earlier, remains tethered to an earthly existence in an old granary in Frederick, Md. He wants to leave, but cannot, because of the mortal sin he committed when he hung himself while in the throes of grief over the loss of his son. He is joined by another spirit, friend Josiah, who could leave but will not because of his ties to the eighteenth-century granary that he lost his life in over 100 years ago.
The two protectively watch over the kind-hearted woman who has made the granary her home and her business – Justine.
Meanwhile, Charity's brother, Billy Fische, is preparing to marry a girl who shares his gift for communicating with the dead. Billy and Kathy learn about William's plight and set about to free his spirit.
"I have never really liked books that had anything to do with history. But this author makes it very interesting and gripping to read," says Amazon reviewer W. Palmer, who gave "Grains of Truth" five stars. "The storyline is fantastic and the details are so good you feel yourself walking through the very places that she is describing. What a book, it's a must read!!"
About Kaye Giuliani
Kaye Giuliani is the founder of Proof Finders Paranormal Investigations, Inc. based in Odenton, Md., the investigating group of nine has developed a fan base numbering in the thousands throughout the world. Giuliani is currently working on her fourth novel. As a cancer survivor, and the mother of three grown children, Kaye has a renewed appreciation and vigor for her life's passions.