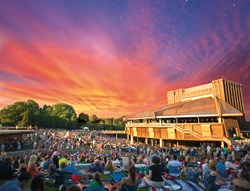 Vienna, VA (PRWEB) August 05, 2013
An Evening with
Chicago
Monday, August 19, 2013 at 8 p.m.
$30-$48
Known for hits such as "Look Away" and "25 or 6 to 4," Chicago brings its distinctive horn-filled sound to the Filene Center. With songs that combine rock, classical, jazz, R&B, and pop genres all into one, Chicago has had 21 Top 10 singles and five No. 1 albums since the late 1960s. In 1976 the band released Chicago X, which garnered a Grammy for Best Pop Performance by a Duo or Group for the smash hit "If You Leave Me Now." In addition to a Grammy, Chicago was awarded a star on the Hollywood Walk of Fame in 1992. The band continues to tour and recently released Chicago XXXIII: O Christmas Three.
Video: Chicago – "Get Away"
Pat Benatar & Neil Giraldo
Cheap Trick
Special Guest: Brynn Marie
Tuesday, August 20, 2013 at 7:30 p.m.
$25-$42
Best known for mega rock hits "Heartbreaker" and "Hit Me with Your Best Shot," Pat Benatar is ready to rock the Filene Center with long-time guitarist and husband Neil Giraldo who helped compose many of her hits. A winner of four Grammys and the first female and guitarist to appear on MTV, Benatar has had a very successful career. In 1979 she released her debut album, In the Heat of the Night, which featured hits "Heartbreaker" and "I Need a Lover." The album peaked at No. 12 on the Billboard 200 and went platinum. Her 1980 follow-up album, Crimes of Passion, featured her most popular single, "Hit Me with Your Best Shot." Benatar's most recent release is 2005's Summer Vacation Tour Live. Continuing to write with Benatar, Giraldo's other significant writing credits include "Jessie's Girl" for Rick Springfield and "Don't Fight It" for Kenny Loggins.
Video: Pat Benatar – "Heartbreaker"
Crossing all boundaries of typical rock music, Cheap Trick has been carving their own way in the music world since the 1960s. In 1978 the band's single "Surrender" became the first of many global hits, which later included the Top 10 smash song "I Want You to Want Me." In total, Cheap Trick has 40 gold and platinum recording awards and has also performed more than 5,000 times. In 2009 the band released not one, but two albums: The Latest and Sgt. Pepper Live. They peaked on the U.S. Independent Albums Chart at No. 14 and No. 7, respectively.
Video: Cheap Trick – "I Want You to Want Me"
Pop/country singer Brynn Marie is making her Filene Center debut after having previously worked with artists such as Darius Rucker, Loretta Lynn, and Phil Vassar. Marie grew up in Carmichaels, Pennsylvania, 60 miles outside of Pittsburgh, and began singing at a very young age. As a teenager, she was in a Christian band, but quickly became interested in country. After winning a radio talent contest in 2005, Marie decided to pursue a career in country music full time. Marie has released three EPs, including 2013's Things Change, which features the feisty single, "Bandaid on a Bullet Hole."
Video: Brynn Marie – "Love is Gonna Find You"
Tickets can be purchased by calling 1.877.WOLFTRAP or online at wolftrap.org. For more information, call Wolf Trap at 703.255.1868.
High-resolution images of the artists listed are available on Wolf Trap's website: wolftrap.org/Media_and_Newsroom/Photos_for_Publication.aspx.
Wolf Trap is Metro accessible!
Our environmentally friendly Wolf Trap Express Bus travels from the West Falls Church Metro stop every 20 minutes starting two hours prior to show time. For details, please visit wolftrap.org/Plan_Your_Visit/Access_by_Metro.aspx.
###