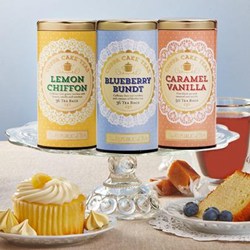 Novato, CA (PRWEB) August 06, 2013
The Republic of Tea, leading purveyor of premium teas, is proud to announce the launch of its new line of Cuppa Cake™ Teas. Each of these calorie-free, gluten-free teas are inspired by delectable cake recipes, with rich aromas of baked goods fresh from the oven and other decadent, natural flavors that are sure to satisfy any sweet tooth. This delightful, new collection is comprised of three scrumptious dessert tea flavors: Blueberry Bundt Tea, Caramel Vanilla Tea, and Lemon Chiffon Tea.
The Republic of Tea's line of Cuppa Cake™ Teas can be served hot with a splash of milk, or cold over ice:
BLUEBERRY BUNDT TEA – This healthy, herbal red rooibos (pronounced ROY-boss) tea is caffeine-free and gluten-free, and has a light, comforting natural flavor of yellow butter cake filled with the aroma of ripe, sweet blueberries. This tea is available in a sleek, giftable tin that holds 36 tea bags.
CARAMEL VANILLA TEA – A smooth, premium black tea inspired by the old-fashioned Southern yellow cake with homemade frosting is infused with natural caramel and vanilla flavor. This gluten-free tea is available in a sleek, giftable tin that holds 50 tea bags.
LEMON CHIFFON TEA – This caffeine-free, gluten-free green rooibos tea is combined with natural lemon, vanilla and coconut flavor to create a flavor of rich chiffon cake sprinkled with sweet coconut and topped with a lemon glaze. This tea is available in a sleek, giftable tin that holds 36 tea bags.
Each of these premium teas retail for $10.00 and come in colorful tins reminiscent of the local bakeshop that hold round, unbleached tea bags free of tags, strings and staples. The full collection is now available for purchase nationwide at natural and specialty food stores, through the company website, (http://www.REPUBLICofTEA.com), mail-order catalogue and by calling 800.298.4TEA (832).
# # #
About The Republic of Tea:
The Republic of Tea enriches people's lives through its premium teas, education and innovation, as it emphasizes a "Sip by Sip Rather Than Gulp by Gulp" lifestyle. Founded in 1992, The Republic of Tea sparked a specialty tea revolution. Today the brand offers an unequaled selection of the highest-quality teas, herbal blends, books and nature-inspired sip ware, available exclusively at specialty retailers throughout the U.S. Further, The Republic of Tea is mindful of how its actions impact the greater community and actively supports worthy organizations like the Whole Planet Foundation, the Prostate Cancer Foundation, Room to Read, Action Against Hunger, The Ethical Tea Partnership, Rainforest Alliance certification and Non-GMO Project verification. For more information, please visit http://www.REPUBLICofTEA.com or call 1.800.298.4832. Follow The Republic of Tea on Twitter at twitter.com/republicoftea and Like us on Facebook at facebook.com/RepublicofTea.