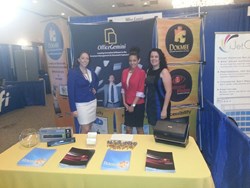 Houston, Texas (PRWEB) August 05, 2013
Office Gemini attended the ICED 2013 Conference & Trade Show held at the Northwest Forest Conference Center in Cypress, Texas on July 18-20th. "Make a move to Marketing," was the theme of this year's conference. Workshops and seminars during the conference emphasized the idea that successful marketing in this digital age requires methods that go beyond traditional print media. The underlying goal was to inform, increase and facilitate the effort of Kwik Kopy stores' integration of print and digital mediums, not only to better fulfill customer's needs but to implement internally as well.
As the digital age continues to evolve decreasing reliance on needs for printing, the Vendor Trade Show was a great opportunity for conference attendees to discuss options regarding any potential losses from lack of printing needs by their consumers. Office Gemini, digital industry leader, from Houston, Texas set up a booth innovatively designed to showcase the integration of print and digital media. It showcased their digital technologies alongside Epson scanners with joint pull up banners. The GT-S55 scanner was displayed on site where they were able to do demonstrations of Diamond Vision, scanning software and Dokmee, document management software. Furthermore, Office Gemini had tremendous crowd interaction with a raffle for a DS-30 scanner. Businesses of all sizes stopped by the booth to find out how Dokmee and Diamond Vision could benefit or contribute to their companies cost cutting and revenue building efforts.
Three companies were chosen to speak at this year's conference, one of them being Office Gemini. The first speaker of the workshop series was Office Gemini's subject matter expert, who introduced a solution to combat potential revenue losses arising from increasing paper-free operations. The solution presented to Kwik Kopy stores was an added line of service using their existing equipment. The solution is scanning using Diamond Vision and Dokmee to increase productivity and profitability was the main topic of discussion. One workshop attendee and Kwik Kopy store owner currently providing scanning services in his store indicated that Diamond Vision and Dokmee would eliminate the headaches he receives from current inefficiencies with scanning projects.
Lastly, there was ample time throughout the day where vendors and participants could come together to discuss business and future opportunities. Being able to meet and interact with businesses one on one allowed vendors, like Office Gemini, to provide solutions to intrigued attendees and bring customer satisfaction.
About Office Gemini:
Office Gemini is an international software manufacturer focused in the document management and document scanning industry. Office Gemini distributes its software products through a vast worldwide network of value-added resellers (VARs). From great software products and implementation assistance to strategic document management and scanning consulting services, we are able to provide a wide range of services to our end users and VARs equally. Our sales and support specialists are not only experts on our own software products, but are also very knowledgeable about the industry as a whole and can help with complementing software and hardware products. The flagship software Dokmee is used by thousands of customers in more than 30 countries and is available in 8 languages. Office Gemini is headquartered in Houston, Texas and has offices in Europe and Brazil. For more information on Dokmee and office Gemini, please visit http://www.dokmee.net/ and http://www.officegemini.com/