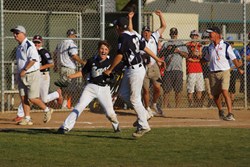 "With close to 30,000 people coming out this week, the games have been outstanding. We're looking forward to a great Championship game between two of the best teams in the tournament," Dave Wetmore, World Series Tournament Director.
Livermore, CA (PRWEB) August 05, 2013
After a full week of ups and downs, smiles and tears, the inaugural Intermediate Little League World Series is down to its final two teams.
While the East team from Collier Township/Cartiers Valley LL and the Southwest team from Post Oak LL exchanged the lead seven times on Sunday, The East team ended up on top with a 5 to 4 win in seven innings, for a berth in the Intermediate Little League World Series title game.
Behind Gordon Hunter, with two (2) hits and two (2) RBIs, and Domenic Cepullio's 5.1 innings pitched, the kids from Pennsylvania took the lead in the 4th inning and never looked back.
The East team will face the Asia-Pacific team from Osaka, Japan on Monday, August 5th at 4:00 PM PST, after the Izumisano LL team from Japan beat Juan A. Bibiloni LL from Puerto Rico, 12 to 2, in the International finals.
Japan's bats exploded in the 4th inning, earlier in the day, with the team rallying for 8 unanswered runs during the International Championship. Shina Usami with his three (3) hits and three (3) RBIs and Ryota Tanaka's 8 strike outs over 6 innings, sparked the Asia-Pacific team en-route to their victory.
The inaugural Intermediate Little League World Series has been an overwhelming success. Over 29,500 people visited the newly remodeled Max Baer Park in Livermore, California for the games which started on July 27th. The events will come to a close on Monday with the Championship Weekend presented by Safeway on Monday, August 5th at Max Baer Field in Livermore at 4:00 PM PST.
The Intermediate Division began as a two-year pilot program, before becoming an official division in 2012. Players ages 11-13 are eligible to play in this Intermediate baseball league, which features a 50-foot pitching distance and 70-foot bases, also known as "50/70".
Little League Baseball was founded in 1939 in Williamsport PA. Through proper guidance and exemplary leadership, the Little League program has assisted millions of children on every continent in developing the qualities of citizenship, discipline, teamwork and physical well-being. By espousing the virtues of character, courage and loyalty, the Little League Baseball and Softball program is designed to develop superior citizens rather than superior athletes.
Little League Baseball, Incorporated is a non-profit organization whose mission is to "promote, develop, supervise, and voluntarily assist in all lawful ways, the interest of those who will participate in Little League Baseball and Softball."
For media, please contact Derek Perez at press(at)intermediateworldseries(dot)org. For general information, contact info(at)intermediateworldseries(dot)org.
# # #