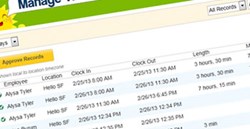 With our employee time clock, businesses will save money and be well prepared for a labor audit.
San Francisco, CA (PRWEB) August 07, 2013
Hello Scheduling, the web's easiest online employee scheduling software, is excited to announce the release of its new online employee time clock. With this new release, Hello Scheduling customers will save considerably on their labor costs.
"We're incredibly excited to announce the release of our time clock," said Jon Byrum, Hello Scheduling's president and co-founder. "We launched the time clock in February, and we've been feverishly adding new features based on customer feedback."
With our time clock, employees are able to clock in and clock out, whether they are on a laptop, tablet, or mobile phone. Hello Scheduling's time clock tracks the actual time the employee starts and stops work, and is able to restrict employees from clocking in before their shift starts. At the end of the pay period, managers are able to approve clock times, override employees' reported hours, and calculate payroll with one click.
Security is also important. With Hello Scheduling, managers are able to lock "clock ins" to a specific computer. Also they can see which employees are clocked in at any time.
"With the release of our employee time clock we're very confident that not only will managers save money – because they'll only pay for the hours their employees actually worked – but companies will be able to more easily stay compliant with the Department of Labor. Having comprehensive time clock records can really help during a labor audit."
In early 2011, Hello Scheduling launched the web's easiest employee scheduling software, saving operations managers hundreds of hours each week. Hello Scheduling's customers include organizations across retail, healthcare, and hospitality with customers like National Multiple Sclerosis Society, the University of Puget Sound, and Trunk Club Men's Outfitters.