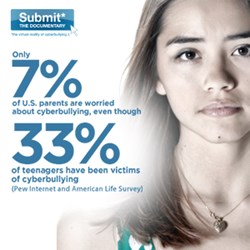 I loved the notion of teaching empathy and 'The Golden Rule'
Atlanta, GA (PRWEB) August 06, 2013
SUBMIT a cyberbullying documentary is being shown for the third time in their film festival run. "Submit the Documentary" is appearing next at the White Sands International Film Festival (WSIFF) Thurs. – September 5, 2013 at Allen Theater Cineport 10 500 S Telshor Blvd, Las Cruces, NM-10am. For ticket information visit: http://www.wsiff.com/tickets.html
The White Sands International Film Festival is dedicated to bringing independent filmmakers and audiences together under the gorgeous backdrop of Southern New Mexico. WSIFF screens outstanding short- and feature-length films, documentaries and narratives of all genres from around the world, while promoting the local film industry and developing lasting relationships within the international film community. WSIFF is interested in independent films with contemporary issues that celebrate the human spirit by depicting stories with quality writing, acting and direction.
"Submit the Documentary" has also been accepted into the Philadelphia First Glance Film Festival scheduled for the end of September at the Franklin Institute Theater. Previously the film was shown at the 2013 Buffalo Niagara Film Festival where they received their first award for second place in the documentary category along with the film's world premiere at the 2013 Atlanta Film Festival.
Recent Film Festivals reviews include prominent film reviewer Cameron McAllister with Reel Georgia gives the film 4.5 out of 5 stars, "From the first ardently pixelated moments, backed a loud, pulsating soundtrack, the film's atmosphere is thick with an urgency that echoes "The Social Network" and "Catfish." While all three movies reside in the same universe, "Submit the Documentary" possesses a passion and importance the others do not. The film wastes zero time on white space, making sure each frame is both trim and useful. Never slowing down long enough to catch its breath, such a breakneck speed favors efficiency without seeming reckless.
"Submit the Documentary" lays out the issues with an incredibly clear perception. As is the case with all problems related to the internet and social networking, this problem is still young and likely to keep shape-shifting as technology and society continue to change. Progress has been made with movements, laws and voices raised, but cyberbullying is still without a clearly defined solution. I loved the notion of teaching empathy and 'The Golden Rule' (Matthew 7:12 in the Bible) as a means to fight bullying and the equal danger of standing idly by. This film and the level of involvement that its team are bringing to the cause speaks volumes to the gravity of this issue."
White Sands International Film Festival is expecting to show "Submit the Documentary" to over 150 local students. These students are part of a special magnet program that are interested in film making and educational films.
For more information, screening kits, and showing information, please visit http://www.submitthedocumentary.com