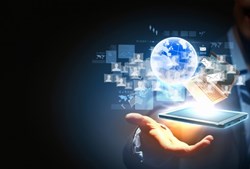 "It's hard to find things that won't sell online." – Jeff Bezos, founder, Amazon
Philadelphia, Pennsylvania (PRWEB) August 28, 2013
In many recent articles, reporters have been talking about building businesses and what it takes to be successful. Digital business is the future of online transactions. Whether people are tutors or fitness trainers, it's always hard finding customers. Charging $50 dollars an hour is hard for most people to afford. For this exact purpose, Bio-Views created a unique system with integrated recurring mobile application pricing to increase the volume of sales which will result in more profit for individuals. Running and growing a business on a social platform will help grow companies faster and bigger because of the traffic. The best part is that online business owners can control and balance their lifestyles.
Many people are stuck in the office all day doing something they don't like because they're too afraid to start a business and having it fail. Bio-Views is the perfect solution. There is a low start up cost and high commissions that people can't get anywhere else. Having a virtual business, people can take vacations whenever they want and still manage their business with custom analytics and tools to improve conversion ratios and gain clientele from all over the world. Bio-Views is an all-in-one social network, built to actually help businesses grow on all levels. As businesses continue to close down, young adults coming out of college are going to be looking for jobs that really don't exist. On top of that, they're going to have plenty of college debt. Bio-Views is a movement to help the average person make real money and run successful businesses online. Social media is only getting bigger. As internet becomes available to more people around the world, the internet industry is going to boom. Now is the time to really bring businesses online and grow them! Bio-Views brings real hope to the people with real opportunity. From all backgrounds, people will have an equal chance to have their own online business and that's why we created a smart platform for people to do it.
Check out http://www.bio-views.com to start an online business! The Bio-Views team is a group of entrepreneurs and business owners who want to help people around the world innovate and discover endless possibilities. Join the movement.