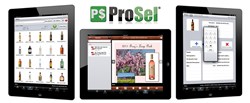 Martignetti's selection of ProSel is a validation that ProSel is the most robust iPad sales force ordering solution in the marketplace.
Chicago, IL (PRWEB) August 06, 2013
Mobile sales app developer Ai2 today announced that Martignetti Companies, a wine and spirits wholesale distributor covering all of New England, will deploy Ai2's ProSel® application for sales force automation on iPad.
Martignetti, among the United States' largest providers of wholesale wine and spirits, prides itself on leveraging innovative technology to enhance productivity and to gain a competitive edge. They are switching to ProSel in an effort to take advantage of the iPad's form factor, ease of use, flexibility and ability to promote a 'high-touch' sales environment.
The company plans to replace its existing laptop order entry system with ProSel, believing that the move to the iPad will provide their reps with better portability in the field and modern selling tools.
Martignetti liked the Ai2 track record of technology innovation and its road map for the future. The experience of the Ai2 implementation and development team was also a big factor in the company's decision. ProSel's configurability and its ability to handle the intricacies of wine and spirit wholesale distribution made it the company's final choice.
"We're thrilled to welcome the industry-leading Martignetti Companies to our customer family," said Douglas Katich, CEO for Ai2. "Martignetti's selection of ProSel is a validation that ProSel is the most robust iPad sales force ordering solution in the marketplace."
ProSel is a scalable and flexible sales solution for mobile professionals in several different wholesale distribution verticals including convenience store, food, jewelry, industrial paper, janitorial supply, beer, and wine and spirits.
The benefits ProSel users report include steeply reduced printing costs, a sharp reduction in order entry errors and virtually zero IT maintenance.
ProSel's core functions include order entry, quickly browsing and searching a 75,000-plus item catalog, bar code scanning for accuracy, access to customer buying history and enterprise content management – a digital briefcase for sell sheets, product images, commercials and other business content.
Established in 1908, Martignetti Companies has grown to become the leading distributor of wine and spirits in New England and the 7th largest in the country. Martignetti Companies currently has sales operations in five New England markets-Massachusetts, Rhode Island, New Hampshire, Vermont and Maine. Based in Norwood MA, the company operates in Massachusetts as United Liquors, Carolina Wine & Spirits, Classic Wine Imports and Commonwealth Wine & Spirits and in other New England states as Martignetti Companies of New Hampshire and Vermont, Rhode Island Distributing Company through a joint venture, and Maine Beverage Company as the exclusive distributor of spirits in the state. For more information, visit Martignetti.com
Ai2 was founded in 1986 and is headquartered in downtown Chicago. Their applications are used by more than 75,000 users each day to capture upwards of $75 billion in annual sales. More than 10,000 retail stores and more than 1,000 movie theaters use Ai2 solutions for their order entry needs. Ai2 improves the sales process for some of the world's largest distributors in foodservice, convenience store, grocery, beverage, hardware, medical, beauty products, jewelry and more. For more information about Ai2, visit Ai2.com.