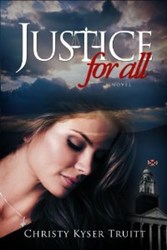 Nashville, TN (PRWEB) August 07, 2013
K.D. Jennings juggles law school, a job as a paralegal at Ingram and Associates, and falling in love with fellow student Trip Folsom. She lives in small-town Alabama with her clinically depressed mother and the memories of the father who abandoned them both. Anger and resentment from her childhood fuel the motivation to succeed at all costs as an adult. The case of a lifetime walks through the door of K.D.'s financially-strapped employer, Ezra Ingram. A poor, naïve, but endearing couple wants to sue the doctor who they allege killed their son, the local football star, treating him for a concussion rather than the heat stroke which took his life. The firm, well-versed on property-line disputes, dog bites, and Ingram's ongoing divorce with his wife, has never argued a wrongful death complaint. K.D. wades through discovery documents, unearthing secrets about the doctor and his relationship with an ER nurse and shoddy reports from the understaffed hospital. The hired medical expert will attest to a clear-cut case of malfeasance. The court winnings could provide K.D. a big enough bonus to finance law school, purchase the medication for her mother's depression, as well as stabilize the firm's finances. Yet K.D. discovers the doctor is her new love, Trip's, uncle. She must decide whether to proceed with the suit and risk losing true love or turn her back on her boss, the closest thing to a father she's ever known.
Through a court case with surprising twists and turns, the sting and joy of love in all forms, K.D. learns freedom from anger's bondage to discover a life on purpose and finds that forgiveness provides the true Justice for All.
Author Christy K. Truitt is a child of the Deep South, raised at the junction of the Tombigee and Black Warrior Rivers in West Alabama. She is a graduate of Auburn University and lives in Auburn, Alabama, with her husband and three children.