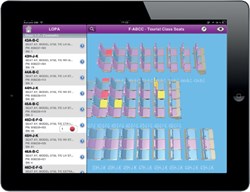 'FLYcheck complies with ATA Spec 2000, and provides status to see which parts are approved or reported, or if a part is missing or expired, along with other vital data.' - Bruno Lo-Re, President/CEO, MAINtag
Atlanta, GA (PRWEB) August 06, 2013
MAINtag, the leading provider of aerospace flyable RFID tags, readers, software and integration services, has launched FLYcheck®, a 3-D iPad-based assets management solution for inventory and maintenance of cabin passenger and security equipment.
The FLYcheck interface delivers a realistic three-dimensional view of an aircraft's interior cabin, and provides data, graphics and animation for multiple viewing angles. Watch the demo at http://www.youtube.com/watch?v=cFx-N7nQZyM.
"The FLYcheck® solution complies with ATA Spec 2000, and provides status to see which parts are approved or reported, or if a part is missing or expired, along with other vital data. At the same time, FLYcheck may reduce inventory check time by as much as 90 percent. The accuracy of the system reduces risk of errors compared to existing methods of cabin safety equipment checks that may be outdated or unintuitive," said Bruno Lo-Re, President and CEO of MAINtag in Paris, France.
Manual safety inspection of cabin equipment is time-intensive. MAINtag's FLYcheck® RFID solution allows an airline technician to scan and verify equipment in every cabin in a matter of minutes, compared to manual inspection that may take several hours. With FLYcheck®, technicians are able to retrieve and update information during cabin inspection, enabling airlines to monitor each piece of equipment quickly and easily while creating and building a maintenance history.
"All data including inventory number, expiration date and exact location on the plane is centralized on a server. Once the aircraft model and class type are selected for a control, the configuration data is downloaded to the reader. The cabin is then displayed in 3-D and the technician simply selects which equipment needs to be checked and in what part of the cabin. Within just a few minutes, FLYcheck® analyzes and compares the downloaded cabin configuration with the scanned data, greatly reducing necessary AOG (aircraft on ground) time," explains Alexis Beurdeley, Vice President of MAINtag Inc. in Atlanta, Georgia.
Safety equipment parts that can be verified and inventoried with the highest level of accuracy via RFID include life vests, oxygen masks, oxygen generators, megaphones, lamps, security lighting, radio beacons, medical kits, fire extinguishers, ropes and more. Passenger equipment, such as seats and IFE (in-flight entertainment) may also be monitored by FLYcheck.
The FLYcheck RFID solution is designed to work with identification tags such as MAINtag's FLYtag® fiber, which can be read by a reader equipped with the FLYcheck® management system. At the forefront of technology, FLYcheck ® is designed to be used with an iPad, incorporating the RFID reader connected via Bluetooth.
For more information about MAINtag and its RFID solutions, download the Solution Book at http://www.maintag.com.
About MAINtag, Inc.
MAINtag, Inc. in Atlanta, Georgia, is the USA-based subsidiary of the French company MAINtag, and services the North and South American aerospace markets. Founded in 2004 for maintenance tagging, MAINtag is now the world leader in flyable RFID solutions for aerospace onboard aircraft, providing solutions to more than 50 European and U.S. OEMs for the A350 XWB. Through its FLYtag® brand, MAINtag maintains its commitment to stay at the leading edge of R&D. MAINtag provides the aerospace and defense industries with reliable and secure products and services that support identification and traceability of flyable parts, ground service equipment, and tooling in order to improve logistics, asset tracking and maintenance processes. MAINtag is AS9100 certified.