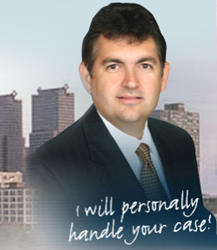 It's nearly impossible to fight a DUI arrest without the help of an attorney.
(PRWEB) August 06, 2013
Theodore Hayes was arrested and faces DUI charges after rolling his car with a passenger. He was sent to Bradford Country Correctional Facility with bail set at $25,000 report the WETM article (7.8.13). The passenger, Michael Blakeman, was serious injured and taken to Robert Packard Hospital.
State Police said Hayes rolled his car on State Route 220 in Ulster Township. According to YNN (7.8.13) the accident occurred late on Saturday, July 6, 2013. When the trooper arrived on the scene, they found the vehicle flipped on its roof. Philadelphia DUI Lawyer Steven Kellis explained, even with a one-car accident, the driver may face penalties because the passenger was injured.
"When facing DUI charges, it's important to hire an attorney. Even just a first-time offense can interrupt your normal ways of life," says Kellis. "It could result in the loss of your job and make it hard to find a new job. Your car insurance will become more expensive, as well. It's nearly impossible to fight a DUI arrest without the help of an attorney."
The help of a professional DUI lawyer can provide an accurate defense. It may be possible to disprove the breathalyzer test or the blood alcohol content. Sometimes police officers make mistakes and an attorney can use this to your advantage.
"If any mistakes were made, it's possible for a DUI attorney to get the charges dismissed," Kellis stated. If you have been arrested for DUI, start protecting your rights and building your defense as soon as possible. Contact the Law Officers of Steven E. Kellis at 215-940-1200 http://www.kellislaw.com
About the Law Offices of Steven E. Kellis
Steven E. Kellis and Philadelphia, PA lawyers at the Law Offices of Steven E. Kellis represent people who have been arrested for driving under the influence. A former Senior Assistant District Attorney and DUI Prosecutor, Steven Kellis has handled more than 300 DUI trials and over 2,000 evidentiary hearings with cases ranging from defending Pennsylvania DUI offenses to vehicular homicide. He is nationally certified in field sobriety testing and uniquely knowledgeable about breath test machines and blood tests used by Pennsylvania law enforcement agencies.
Lawyers at The Law Offices of Steven E. Kellis serve the state of Pennsylvania, including the Philadelphia metropolitan area, and other communities in the counties of Philadelphia, Montgomery, Delaware, Chester, Bucks, Berks, Lancaster, Lehigh, Northampton, Carbon, Dauphin, York, Monroe, Lebanon, Luzerne and Lackawanna.