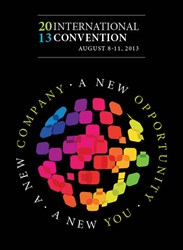 Greensboro, NC (PRWEB) August 05, 2013
A new company. A new opportunity. A new you. That is the message Market America|SHOP.COM will deliver to more than 20,000 eager entrepreneurs at its upcoming 2013 International Convention here in its hometown.
This year's event, to be held August 8-11 at the Greensboro Coliseum in Greensboro, N.C., will showcase the latest developments in Market America|SHOP.COM's high-tech, high-touch approach to retailing, which has made the company a leading player in the global e-retailing sector, as evidenced by its inclusion on Internet Retailer Magazine's Top 500 Guide, coming in on the list at number 57.
"We are successfully combining e-retailing, social media, one-to-one marketing, product brokering and entrepreneurism, leading to vast new opportunities," said President and Chief Executive Officer JR Ridinger. "At this event, we will reveal more ways we are making it easier for consumers to find the best products and prices and for entrepreneurs to leverage it like never before."
Among the technological advancements to be on display at Market America|SHOP.COM 2013 International Convention: The company's new Virtual Home Advisor, a tool enabling customers to save by comparing products currently in their homes to alternatives offered through SHOP.COM; redesigned features throughout SHOP.COM; expanded social shopping developments through the SHOP.COM Trend Shop application; and more.
Market America|SHOP.COM 2013 International Convention will feature the Market America Executive Team, successful entrepreneurs and celebrity guests. Previous Market America events have been attended by the likes of Alicia Keys, Jennifer Lopez, Serena Williams, Alejandro Sanz, Khloe Kardashian-Odom, Gloria and Emilio Estefan, Tony Romo, Swizz Beatz, Paulina Rubio, and Marc Anthony, among many others.
In addition, Market America|SHOP.COM 2013 International Convention will feature numerous new product launches from its wide assortment of health & nutrition and beauty and personal care brands.
Modern Day Romance, the Fall/Winter 2013 collection from the award-winning Motives by Loren Ridinger cosmetics line created by Market America|SHOP.COM Senior Vice President Loren Ridinger, will be unveiled. Following the hottest color trends for the season, Modern Day Romance products, in addition to line expansions for both the Motives and Motives for La La brands, will be available immediately exclusively at http://www.SHOP.COM and http://www.MotivesCosmetics.com.
The company is also expanding its widely-successful skincare brand, Lumiere de Vie. The newest offerings from beauty and fashion expert Amber Ridinger McLaughlin, complement the existing products that have garnered worldwide press and devoted followers after experiencing remarkable results since Lumiere de Vie launched a mere six months ago.
Market America is also heading into a new market – baby and child care – with the launch of DNA Miracles and DNA Miracles Natural created by new parents Duane McLaughlin and Amber Ridinger McLaughlin. The new lines will be comprised of high quality body and wellness products for babies, children and expectant mothers, with DNA Miracles Natural products carefully formulated to include natural ingredients and formulas for young children.
The company's weight loss division, TLS Weight Loss Solution, will award $75,000 in cash prizes to the winners of the TLS Find Your Fit 2013 Spring Challenge, and open registration for its next challenge. The TLS Find Your Fit 2013 Fall Challenge will award even bigger cash prizes – $100,000 total – and feature a new twist: The winners will be selected by the public during a week-long online vote. Participants can register and view more information by visiting http://www.tlsSlim.com
The company will also launch multiple new health & nutrition products, including: Isotonix Immune, the latest product in the company's revolutionary Isotonix line of advanced nutritional supplements; Frusanté, a dietary supplement beverage that blends white, green and black teas with superfruits and coconut water to help support the health of your cardiovascular system; Choice Bars, convenient energy and protein bars that provide combine a great-tasting, guilt-free treat that can be enjoyed anytime, anywhere; and TLS Whey Protein, an rBGH-free, fast-absorbing shake provides the protein you need — and nothing you don't — to meet your fitness and weight loss goals.
During the event, attendees will be treated to musical performances from Conquer Entertainment artists including Nadia Turner, a finalist from season 4 of American Idol; and Olamide Faison, R&B singer/songwriter and actor who has been featured by Essence magazine, BET and other media outlets.
Throughout the week, successful Market America entrepreneurs will share their success stories and tips on how anyone with desire and dedication can find their own success through the Market America business model.
"This is one of the biggest, most all-encompassing events we've put on in the history of the company," said Chief Operating Officer Marc Ashley. "The company is stronger than ever. The opportunity for success is greater than ever. We're developing new technologies and new products to meet the demand of the marketplace, and we're looking forward to bringing in new talented entrepreneurs as we pursue our mission to change the way people shop."
For up-to-the minute conference updates, visit the Market America blog (http://blog.marketamerica.com) or follow the conversations on Facebook (http://www.facebook.com/marketamerica; http://www.facebook.com/SHOP.COM) and Twitter (http://www.twitter.com/marketamerica, http://www.twitter.com/SHOPCOM, or search #MAWC2013).
ABOUT MARKET AMERICA, INC. & SHOP.COM
Market America, Inc. is a product brokerage and Internet marketing company that specializes in One-to-One Marketing. Its mission is to provide a robust business system for entrepreneurs, while providing consumers a better way to shop. Headquartered in Greensboro, NC, the company was founded in 1992 by President and CEO JR Ridinger and has generated $4.3 billion in accumulated sales. Market America employs nearly 700 people globally with operations in the United States, Canada, Taiwan, Hong Kong, Australia, United Kingdom and Mexico. Through the company's shopping website, SHOP.COM, consumers have access to over 40 million products, including Market America exclusive brands and thousands of top retail brands. By combining Market America's entrepreneurial business model with SHOP.COM's powerful comparative shopping engine, Cashback program, Hot Deals, social shopping integration and countless other features, the company has become the ultimate online shopping destination.
For more information:
http://www.marketamerica.com or http://www.SHOP.COM