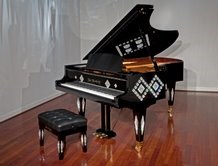 Glows with warmth... and sparkles like diamonds.
Raleigh, North Carolina (PRWEB) August 06, 2013
After nearly five years of limited showings and concerts, glass artist Jon Kuhn's contemporary styled Kuhn-Bösendorfer art case piano now is available for purchase. Clients of celebrity and high-end interior designers, entertainers, musicians, sports celebrities, music stars and music lovers worldwide are invited to consider purchase of the dazzling Kuhn-Bösendorfer art case piano, which is in impeccable visual and playing condition. The piano may be seen and played at Ruggero Piano of Raleigh, N.C.
Jon Kuhn is the world's foremost cold glass artist. His radiant glass sculptures are found in the collections of over 40 museums, including the Metropolitan Museum of Art, the Smithsonian American Art Museum, the Carnegie Museum of Art, the Corning Museum of Glass, the Mint Museum of Craft and Design and the White House. Kuhn's work is known for its intricate design, astonishing clarity and colors that sparkle and shift as the viewer changes position.
The Kuhn-Bösendorfer is a "grand collaboration" between Jon Kuhn and Austria's famed L. Bösendorfer Klavierfabrik GmbH and is based on Bösendorfer's popular Model 225. The piano features 200 intricately crafted jewels of optical grade crystal arranged in diamond patterns on the case, lid, fallboard and bench. All told, they contain as many as half a million facets, each capable of reflecting the full light spectrum. The Kuhn-Bösendorfer can glow with warmth one minute and a moment later sparkle with the brilliance of diamonds.
The Kuhn-Bösendorfer is the only piano like it in existence and is the only co-branded art case piano ever allowed by Bösendorfer, whose hand-crafted instruments have been valued for their exquisite sound and unparalleled playing quality since 1828. Bösendorfers are played by such diverse artists as Valentina Lisitsa, Placido Domingo, Tori Amos, Andras Schiff, Phillipe Entremont, JJ Lin, and the Grand National Theatre Beijing, among others.
The piano now is being offered on a first-come basis and currently is displayed in the showroom of Ruggero Piano, in Raleigh, North Carolina. Ruggero Piano is the originating Bösendorfer dealer and sole representative for sale of the Kuhn-Bösendorfer. The 55-year-old technician-owned company is highly regarded nationwide for the sale, service and restoration of high-end European and American pianos. Prospective purchasers of the Kuhn-Bösendorfer are invited to contact Richard Ruggero, owner of Ruggero Piano, directly at 1-919-839-2040.
Likely buyers include art collectors and the owners of luxury homes in cities like Hollywood, California, Chicago, New York, Boston, San Francisco, Washington, Dallas and Miami, as well as world financial centers like Sao Paulo, London, Paris, Tokyo, Singapore, Seoul, Shanghai, Hong Kong, Istanbul, Mumbai, Kuwait City, Riyadh, Abu Dhabi and Dubai. Entertainers, musicians, sports celebrities, music lovers and art collectors, such as Chinese collectors of contemporary art, as well as art collectors from Russia, Japan, India, Italy, the UK and elsewhere also are invited to consider purchase of this remarkable work of visual and musical art: for a very special birthday, anniversary or Christmas gift or to honor a friend; for a patron who wants to donate the piano; a luxury hotel or real estate developer who wants a strikingly visible artistic centerpiece for one of its properties; performers seeking a more dramatic stage presence, or the owners of luxury yachts who seek a one-of-a-kind work of art for their craft.