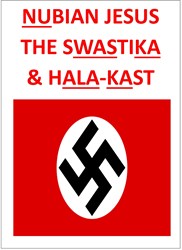 Fern Park, Florida (PRWEB) August 08, 2013
Michael R. Meade's ebook, "Nubian Jesus, Swastika & Halaka-st" historically goes back into Ancient Nubia using their own words and symbols to show you that Jesus came from the city of Wa-"SET" in Africa that was the home of the Was Scepter. The author then uses the ancient hieroglyphic symbols for the city of Waset (Southern City) to show the city's name was SW-Was-T-Ka/Swastika.
The author then explains to the reader that the word Halaka is often translated as "Jewish Law", although a more literal translation might be "the path" or "the way of walking" which derives from the Hebrew root that means to go or to walk that guides not only religious practices and beliefs, but governs all aspects of day-to-day life called Nazi Socialism or Communism under the Union Of Soviet Socialist Republic that mass murdered six million Jewish men women and children in Germany and starved to death eight million men women and children in the Soviet Union. The author then draws a clear and distinct correlation between the word Halaka and the definition of the word Fuhrer which means to lead, akin to old English Faran, to go for a walk.
Finally, the author ties in all three words Halaka, Fuhrer and Sharia law by explaining to the readers that Scholars describe the word sharia law as an archaic Arabic word denoting "pathway to be followed", or "path to the water hole". Finally the author explains that Sariah law in Arabic or Sharia law in English, also known as Islamic law is the moral code and religious law of Islam that Muslims believe is God's law that is taught through memorization and interpretation of the Qur'an.